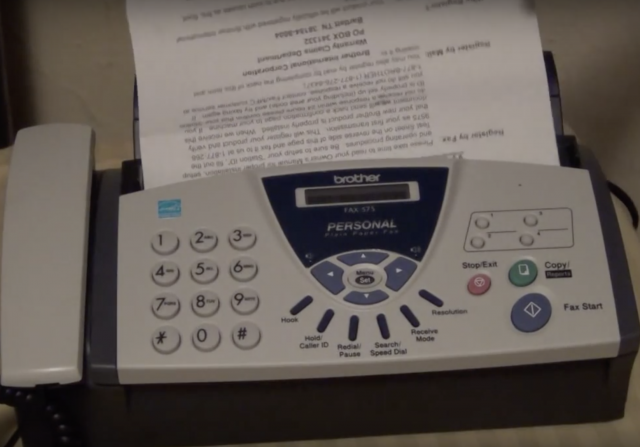 The FBI quietly announced a new policy starting next month that requires all Freedom of Information Act (FOIA) requests to be sent via fax or through regular U.S. Mail and it is a move that seems to have made some government transparency advocates a little frustrated.  A small number of requests can still me made through an online portal, but that will reportedly require users to provide personal information to the FBI to access the system.
Some journalists are already speaking out about the change.
Can't make it up: @FBI reportedly will stop accepting most FOIA requests by email. We have to fax them. Fax!https://t.co/vSUXDzp7tw

— Nick Confessore (@nickconfessore) February 7, 2017
According to the Daily Dot, the policy is part of a larger government agency effort that they say seems to "intentionally rely on archaic technologies to process public records requests."   The CIA and the Defense Advanced Research Projects Agency (DARPA), which handles secret government technologies, also requires fax requests, according to the report.
"It's a huge step backwards for the FBI to switch from a proven, ubiquitous, user-friendly technology like email to a portal that has consistently shown problems, ranging from restricting how often citizens can access their right to government oversight to legitimate privacy concerns,"said Michael Morisy, co-founder of MuckRock, a nonprofit that helps thousands of users make FOIA requests each year.
Morisy told the outlet the online system worked very well for many years and he cannot understand why it will soon be is gone.
Canfessore and Morisy are not alone in their confusion and worry about the apparent move back to technology of yesteryear.
FBI has announced they'll stop accepting all emailed requests in a month, will force the use of their #FOIA portal, fax or snail mail only. pic.twitter.com/jj4bKfOSfH

— Michael Best (@NatSecGeek) February 6, 2017
Just confirmed they didn't tell people about this until today (Monday). Not even 30 days notice! #FOIA https://t.co/qob4wb2xNK

— Michael Best (@NatSecGeek) February 6, 2017
If you ever doubted that #FOIA can be a powerful tool, just look at how hard the FBI is trying to fight it.

— Michael Best (@NatSecGeek) February 6, 2017
Michael Best, another journalist and FOIA investigator, has sent out a number of critical tweets since the policy was announced this past Monday.
The reason critics seem concerned is because they believe the government in intentionally trying to slow walk FOIA requests to keep people in the dark.
As the article mentions, all one needs to do to see the power of FOIA requests is look no further than what happened to Hillary Clinton during the last campaign.  All of the seemingly endless State Department FOIA releases were the result of a FOIA lawsuit and records requests brought journalists like Vice's Jason Leopold.
LawNewz has reached out to the FBI to in an attempt understand the official reasoning behind the change.
An FBI spokesperson told LawNewz:
The FBI's eFOIA portal was designed and developed to be the FBI's primary means for receiving FOIA and Privacy Act requests. The portal provides the FBI with an automated process for the receipt and opening of requests, replacing the current manual process and substantially reducing the time it takes to receive and open each electronic request received. Given the FBI's high volume of requests, this will significantly increase efficiency.

The FBI eFOIA portal has been under development and testing for two years. With the full implementation of the portal on March 1, 2017, the terms of service for the site will be modified to allow an unlimited number of requests, no limitation on the number of requests which may be submitted by an individual, and availability seven days a week, 24 hours a day. "
Judicial Watch, a government watchdog that handles dozens of FOIA lawsuits at any given time, provided a little different perspective on the matter, with President Tom Fitton saying that although the process of getting a request may be a bit more difficult, the real problem with FOIA requests is the response time of the agencies.
"Processing time of records is essentially Neanderthal, even for a bureaucracy," Fitton said.
[image via screengrab]
Have a tip we should know? [email protected]