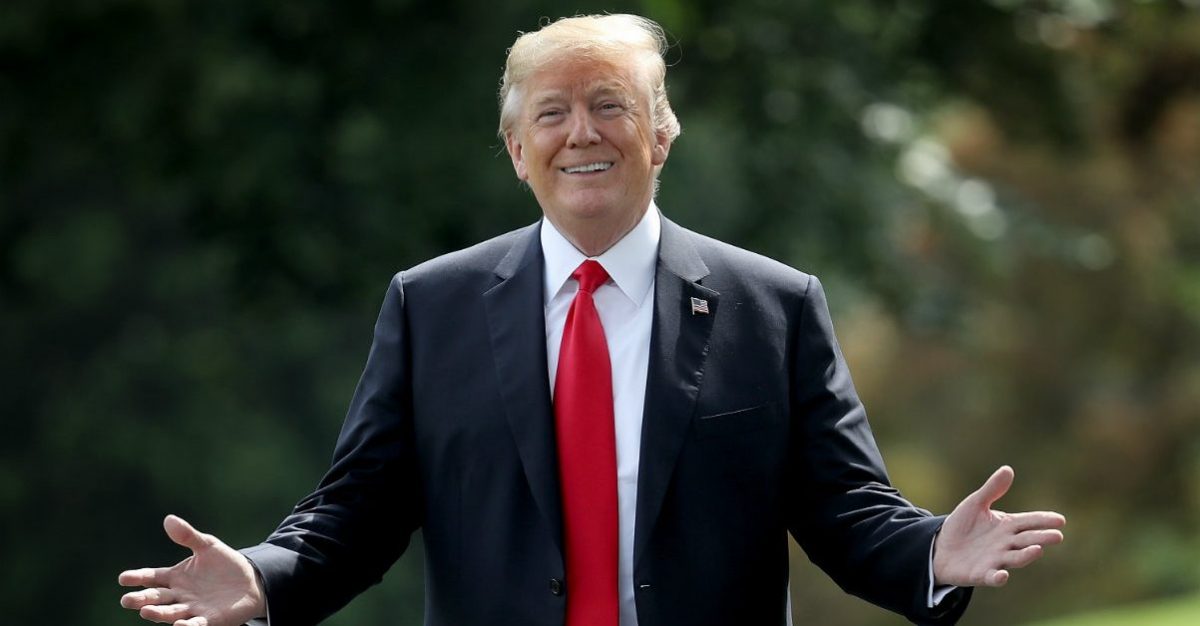 President Donald Trump's former foreign policy advisor George Papadopoulos submitted a sentencing memorandum with the U.S. District Court for the District of Columbia on Friday night. Most media attention thus far has focused on the not-entirely-novel revelation that Jeff Sessions okayed the plan for Trump's 2016 campaign to meet with members of the Russian government in order to bolster their foreign policy bona fides.
One longtime national security journalist, however, thinks the Papadopoulos sentencing memo wasn't really written for the court's consumption so much as it was intended to function as a plea to President Trump himself–a plea for a presidential pardon.
Marcy Wheeler (who has been covering national security law and politics since special counsel Patrick Fitzgerald's investigation into the George W. Bush administration) believes the requested pardon is based on Papadopoulos' continued allegiance to Trump.
So, how exactly is Papadopoulos, bizarrely described in the sentencing memo as "Young George," still serving his "master," as the memo perhaps even more bizarrely describes Donald Trump? Wheeler writes:
Rather than writing an honest sentencing memo, he's still working with co-conspirators, in this case, in hopes of getting a pardon from Trump….The most important sentences in the sentencing memo — which have no purpose in an actual sentencing memo — are his revelations that he kept denying that he had told the campaign that Russia was planning on releasing emails stolen from Hillary.
Wheeler then cites the following two passages from the half-maudlin memo in support of her thesis:
[Papadopoulos] told the [FBI] agents he was unaware of anyone in the campaign knowing of the stolen Hillary Clinton emails prior to the emails being publicly released…

If investigators wished to know what George did with the information from Professor Mifsud, they could have asked George during his interview. Indeed, they did ask if George provided the information to the campaign and George denied ever doing so. In his later proffer sessions, George reiterated that he does not recall ever passing the information along to the campaign.
Wheeler continues, noting, "The introduction to the second of these mentions in fact serves no other purpose than to provide an excuse to repeat, again, in case Trump missed it the first time, that Papadopoulos lied and continued to lie about telling the campaign about the emails. Rick Gates (among others) has surely told the FBI this is a lie, but Papadopoulos repeats the lies for Trump's benefit."
In other words, Papadopoulos is telegraphing his continued loyalty to an alleged–and allegedly ongoing–conspiracy between himself and others to hide untoward Russian government involvement with Trump's 2016 campaign, according to the theory.
Specifically, the theory holds, Papadopoulos wants to get the message to Trump that the young and recognition-starved stalwart never once started singing to the FBI or the special counsel about the Trump campaign's knowledge of stolen Hillary Clinton emails.
But he did tell other (e.g. non-campaign) people about those emails, apparently. The sentencing memo notes, "[Papadopoulos] detailed a meeting in late May 2016 where he revealed to the Greek Foreign Minister that the Russians had "dirt" on Hillary Clinton. He explained that this meeting took place days before President Vladimir Putin traveled to Greece to meet with Greek officials."
Wheeler finds this implausible. She writes:
[F]or the entire month of May, Papadopoulos was telling complete strangers about Russia dealing stolen Hillary emails. And yet, even though he professes to have "unbridled loyalty" to the Trump campaign, at a time he was thrilled that "his career [was] skyrocketing to unimaginable heights" and "gidd[y] over Mr. Trump's recognition," he didn't tell any of those people on the campaign with whom he was currying favor.
[image via Win McNamee/Getty Images]
Follow Colin Kalmbacher on Twitter: @colinkalmbacher
Have a tip we should know? [email protected]