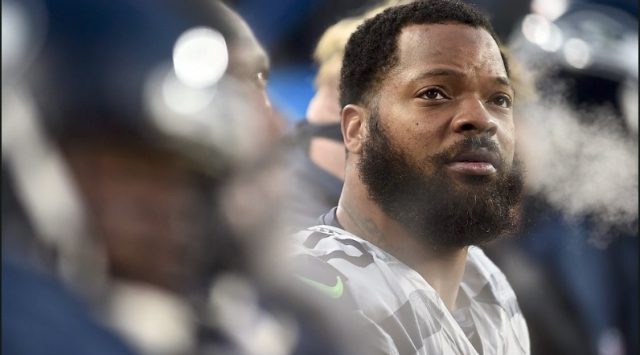 Seattle Seahawks defensive end Michael Bennett has something to say about equality.
In an open letter posted to Twitter this morning, the Super Bowl XLVIII champion recounted a recent experience with the Las Vegas Police Department.
Bennett was walking back to his hotel room after watching the Mayweather-McGregor boxing match. It was Vegas on a marquee night and hundreds of people were around. And then, what sounded like a series of gun shots sent the hundreds of people in the area running away from the apparent shooting–Bennett included. He wrote:
I ran away from the sound, looking for safety. Las Vegas police officers singled me out and pointed their guns at me for doing nothing more than simply being a black man in the wrong place at the wrong time. A police officer ordered me to get on the ground. As I laid on the ground, complying with his commands to not move, he placed his gun near my head and warned me that if I moved he would "blow my fucking head off."
Remarkably, it just gets worse from there.
The shocking letter continues, "Terrified and confused by what was taking place, a second Officer came over and forcefully jammed his knee into my back making it difficult for me to breathe. They then clinched the handcuffs on my wrists so tight that my fingers went numb."
The two-time Pro Bowl superstar repeatedly inquired with police as to why he was being attacked. He said, "What did I do?" over and over and reminded the tan uniformed officers that he had rights. They ignored him and stashed him away in the back of a nearby police car until realizing they had just an arrested an NFL player.
Bennett's letter also strikes a poignant tone. Reflecting upon the state of race relations and the official exercise of power and violence, he writes:
The Officers' excessive use of force was unbearable. I felt helpless as I lay there on the ground handcuffed facing the real-life threat of being killed. All I could think of was 'I'm going to die for no other reason than I am black and my skin color is somehow a threat.' My life flashed before my eyes as I thought of my girls. Would I ever play with them again? Or watch them have kids? Or be able to kiss my wife again and tell her I love her?
It continues: "I have always held a strong conviction that protesting or standing up for justice is just simply, the right thing to do. This fact is unequivocally, without question why before every game, I sit during the national anthem–because equality doesn't live in this country and no matter how much money you make, what job title you have, or how much you give, when you are seen as a "[n-word]," you will be treated that way. The system failed me. I can only imagine what Eric Garner, Michael Brown, Trayvon Martin, Tamir Rice and Charleena Lyles felt."
Bennett also notes that he has retained civil rights attorney John Burris and is considering filing a lawsuit. LawNewz has reached out to the Las Vegas Metropolitan Police Department for comment, and will update accordingly.
[image via Shutterstock]
Follow Colin Kalmbacher on Twitter: @colinkalmbacher
Have a tip we should know? [email protected]