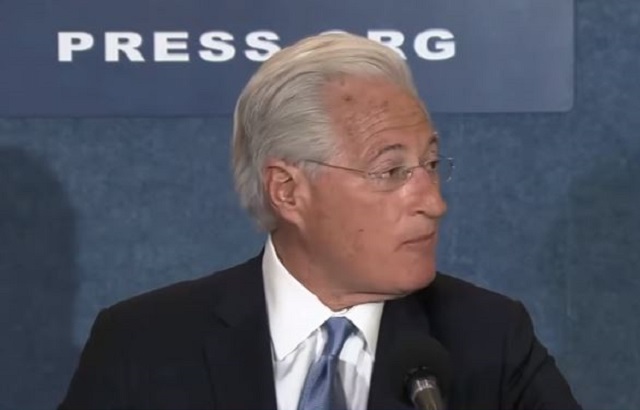 President Donald Trump's personal attorney Marc Kasowitz, hired to represent him during the investigation of the Trump campaign's ties to Russia, will not apply for security clearance for his work on the matter. This comes from a spokesperson for Kasowitz, who spoke to ProPublica.
According to attorneys who have served similar roles, this is a pretty unusual move. Robert Bennett, former personal attorney for President Bill Clinton, told the publication that clearance would be a necessity for this sort of thing. "No question in my mind — in order to represent President Trump in this matter you would have to get a very high level of clearance because of the allegations involving Russia," he said.
Kasowitz's spokesman, however, feels otherwise, saying, "No one has suggested he requires a security clearance, there has been no need for a security clearance, and we do not anticipate a need for a security clearance." He added, "If and when a security clearance is needed, Mr. Kasowitz will apply for one with the other members of the legal team."
But some past and present members of Kasowitz's own firm, Kasowitz Benson Torres LLP, spoke about an issue that could prevent Kasowitz from even being able to get clearance should he seek it. Sources spoke to ProPublica about Kasowitz allegedly having a history of alcohol abuse, including a brief time in rehab in 2014-2015.
While such a history means nothing as far as his ability to effectively represent the President, it is something that is taken under consideration by security clearance guidelines. "Excessive alcohol consumption … can raise questions about an individual's reliability and trustworthiness," the guidelines say, adding that incidents at or away from the workplace could be disqualifying. Seeking and adhering to treatment, and the passage of time, however, are mitigating factors that could alleviate concerns.
If the reports are true though, it may be enough to keep Kasowitz from getting clearance, at least according to Sheldon Cohen, a D.C. security clearance attorney. "You probably wouldn't get your clearance if you had serious drinking problems in the last five years," Cohen told ProPublica.
When asked about Kasowitz's alcohol use, the spokesman reportedly didn't address rumors of abuse, but said the attorney has no problem drinking in moderation.
[Image via Fox screengrab]
Have a tip we should know? [email protected]