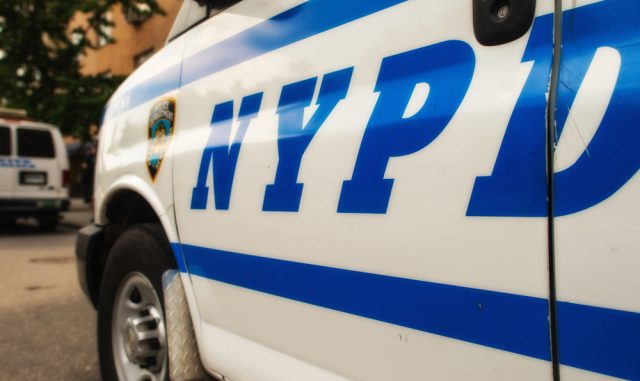 A teenager in the Bronx may have quickly-attained cult status amongst the ranks of those concerned with racial profiling, police brutality and the seemingly never-ending torrent of extra-judicial deaths at the hands of the state–while simultaneously incurring the wrath of #BlueLivesMatter activists and police.
Julien Rodriguez, 16, played N.W.A.'s classic anthem of anti-police defiance, "Fuck Tha Police" outside of his third-story apartment window on East 188th Street as thousands of cops below mourned at a funeral for recently-deceased NYPD Officer Miosotis Familia.
In comments to the New York Post, Rodriguez said it was "satisfying" to play the track on repeat for the grieving assemblage of badges to hear because police had unjustifiably killed his older brother and best friend. He rhetorically quipped:
"Since they did not show respect for my brother and my friend, why should I show respect to them?"
Rodriguez's accusations about the purported deaths of his friend and brother were unverified at the time of publication, but this article will be updated if and when more details emerge.
Blasting the hit tune was not without consequences; a swarm of roughly 20 cops made their way to Rodriguez's apartment, pleading with the teenager to stop the music. One officer even attempted to level with Rodriguez in Spanish about growing up Latin in New York, but still, he persisted, unmoved by police pressure.
Eventually, he was forced to cut his protest short–under threat of eviction from the building's superintendent, who was also able to force an apology.
Rodriguez said, "I [only] apologized because it was between the house and apologizing."
He also expressed sympathy for the recently-deceased officer whose funeral he interrupted, saying it was wrong that she died, "because all she was trying to do was take bad people off the street."
A police source anonymously cursed the defiant Hip-hop fan, saying: "This is the shit we face every day."
[image via Shutterstock]
Follow Colin Kalmbacher on Twitter: @colinkalmbacher
Have a tip we should know? [email protected]