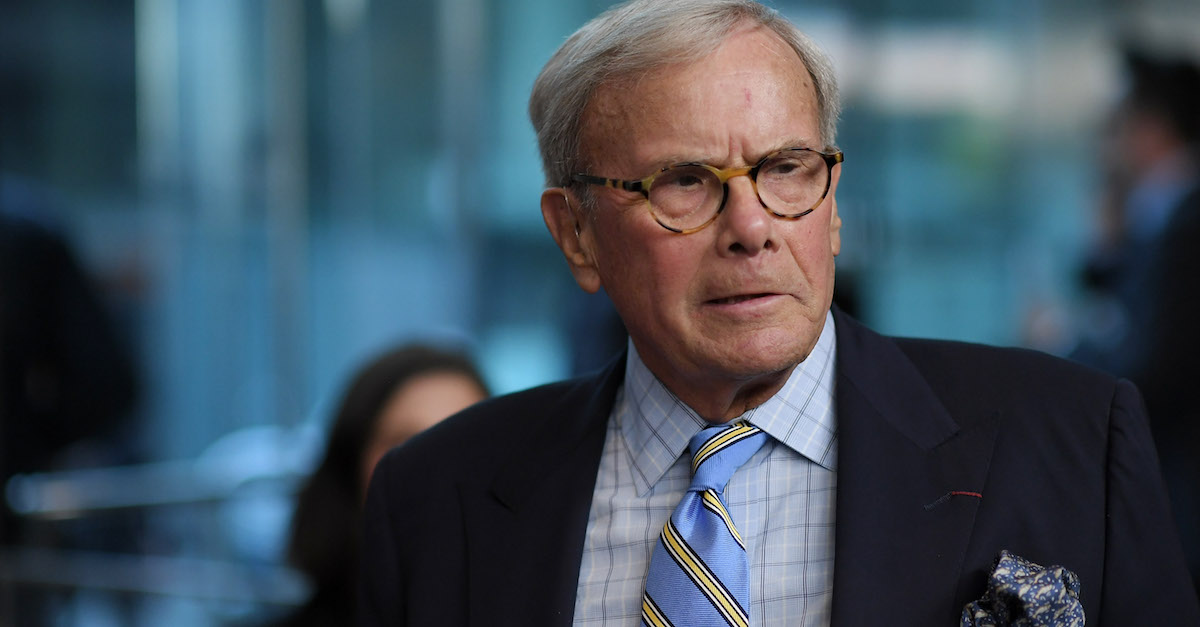 As NBC continues to deal with Matt Lauer fallout — and former anchor Ann Curry's recent comments advanced that story even more — it's now faced with accusations that staffers worried about retaliation against them if they did not sign a letter in support of household name Tom Brokaw, who has been accused of sexual harassment by two women, one named and one unnamed. That could amount to a whole lot of legal trouble for the network, if accurate.
Page Six reported late Monday, quoting an anonymous NBC News staffer apparently speaking for other women as well, that "We had no choice, particularly the lower level staffers" but to sign a letter supporting Brokaw, who was accused of harassment by Linda Vester and another woman.
A third woman, Mary Reinholz, wrote Monday that a married Brokaw "made a pass" at her and French kissed her 50 years ago when she was a young reporter.
Browkaw's "angry" denial of the allegations has been much discussed. He called them a "drive by shooting."
As Mediaite reported, MSNBC's Rachel Maddow, Mika Brzezinski and Andrea Mitchell were among the 100-plus names who signed a letter saying, "Tom has treated each of us with fairness and respect," that "He has given each of us opportunities for advancement and championed our successes throughout our careers" and that he is a "man of tremendous decency and integrity."
The staffer said some alarming things about this letter. Key words: "unspoken threat," "some repercussion down the road," "Execs are watching."
"We felt forced to sign the letter supporting Brokaw. We had no choice, particularly the lower level staffers. The letter was being handed around the office and the unspoken threat was that if your name was not on it, there would be some repercussion down the road," the staffer said. "Execs are watching to see who signed and who didn't. This was all about coming out in force to protect NBC's golden boy; the network's reputation is tied to Brokaw . . . If more women come forward, that's a big problem."
While a NBC News representative told Page Six the letter was a "purely grass-roots effort, led by women outside of the company who are motivated by their own support for Tom Brokaw" and that "Management has played absolutely no role whatsoever," Page Six pointed out that the letter was spearheaded by Goldman executive Liz Bowyer, who assisted on two of Brokaw's books and produced Tom Brokaw Reports.
Another unnamed "insider" said that the "pressures" described by the staffer could have "chilling effect" on reporting of wrongdoing in the future.
And, as we write this, Variety published an exclusive saying that NBC News "urged" anchors to report on the letter supporting Brokaw. Variety said NBC News declined to comment.
The story says a memo was sent out to on-air reporters advising them to "[i]nclude relevant portions of Brokaw's denial, his email and the email in support of him, signed by more than 60 colleagues."
Law&Crime legal analyst Misty Marris, who specializes in employment law, told Law&Crime that NBC could face ramifications including a class action lawsuit, if these allegations are true.
Marris said that one major thing to consider is that New York City's human rights code is broader than the federal statute.
"The standard is that anything that has a chilling effect on someone reporting harassment is deemed retaliatory. So to the extent that these women felt intimidated, NBC absolutely has a problem," she said, adding that this all depends on the truth of the allegations. "In a court, each of those women making that claim would be deposed. If the answer is that the women signing the letter just happen to support Brokaw, then case closed. If the letter signing is driven by fear and intimidation: big problem."
Marris said there could be several repercussions, with some of the worst amounting to "legal disaster."
"First you could have federal or state agencies (the equal employment opportunity commission) independently investigate NBC. They could take action by possibly bringing a lawsuit," she said. "Or you could see NBC embroiled in a legal disaster if women come forward and bring lawsuits.  In a case like this you may even see a class action."
Again, it all hinges on the truth of the matter, but Ann Curry's story about the response to her warnings about Matt Lauer wouldn't help NBC's cause in court, Marris said.
Curry, in case you missed it, told the Washington Post that an unnamed woman once approached her about Lauer "and asked me tearfully if I could help her . . . she was afraid of losing her job."
Curry said she went to management and said "they had a problem and they needed to keep an eye on [Lauer] and how he deals with women."
Nothing was done because of that report, but NBC said it had no record of the complaint, as it was made under previous management.
"That's not good optics for NBC. Now, of course, if this was in court we would hear NBC's side of the story and a determination made on the evidence," she said. "The environment matters. It's a question that is always asked. If there are multiple people who come forward and say we could never complain for fear of repercussion, that will stick in the minds of a juror and will be a factor considered at trial."
"When you have two big dogs with these types of accusations, and then a lot of employees telling the same story about the culture, it's tough for a defendant to rebuff the allegations," she continued, adding that potential plaintiffs may seeks damages for economic loss, emotional distress, attorneys fees and possibly punitive damages.
In the context of a class action suit, damages could rise to tens of millions of dollars.
Law&Crime has reached out to NBC for comment.
[Image via Mike Coppola/Getty Images]
Have a tip we should know? [email protected]