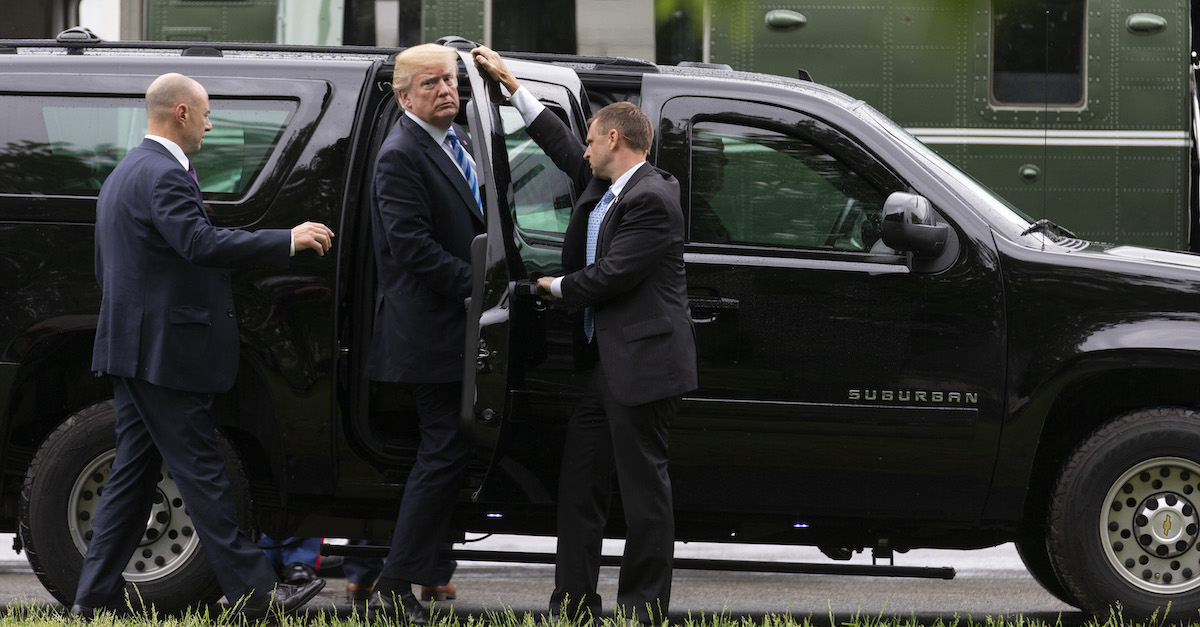 Much ink has been spilled on President Donald Trump's open mockery of the Robert Mueller Russia Probe on Thursday, the one-year anniversary of the Special Counsel taking the helm. Trump is surely sparking derisive and jeering comments questioning the legitimacy of Mueller's investigation, but the truth is that, if history is any indicator of how long these kinds of investigations go on, Trump will be congratulating America again on May 17, 2019.
Trump congratulated America today for officially ushering in the second year of the "greatest Witch Hunt in American History."
He also called the probe "disgusting, illegal and unwarranted."
It has been noted in general that even if Trump were to use his executive authority to fire Mueller career prosecutors and FBI agents wouldn't allow the investigation to just stop. But it's also been mentioned that probes past that have since become household names dragged on longer than Mueller's investigation has up to now. Some of those investigations are known as: Watergate, Iran-Contra, and Whitewater.
Consider this helpful graphic from FiveThirtyEight below:
Indictments and pleas in Watergate occurred more than two years into the investigation, Iran-Contra had them in year five and Whitewater had them in year four.
Archibald Cox was appointed the Watergate special counsel in May 1973 and was a victim of the "Saturday Night Massacre" on Oct. 20, 1973. Richard Nixon announced his resignation on August 8, 1974.
Lawrence Walsh was appointed independent counsel in the Iran-Contra investigation on Dec. 1986 and he continued submitting reports until Aug. 1993. There were numerous guilty pleas.
Kenneth Starr was named special counsel in the Whitewater investigation in 1994. Bill Clinton wasn't impeached until 1998.
Consider also that the Benghazi investigation began in 2012 and ended in 2016.
Nonetheless, Trump attorney Rudy Giuliani is saying that just over a year in "Mueller should now bring this to a close."
"It's been a year. He's gotten 1.4 million documents, he's interviewed 28 witnesses. And he has nothing, which is why he wants to bring the president into an interview," he said Wednesday. "It's about time to say enough. We've tortured this president enough."
Giuliani said there is no evidence of "collusion or obstruction" and thus the investigation should end.
"It is hard to recommend a [Mueller] interview when the questions presented indicate they have no evidence, and it is hard not to get at least the appearance they are attempting to trap him into perjury," Giuliani also said, according to Bloomberg. "We are going to try as best we can to put the message out there that it has been a year, there has been no evidence presented of collusion or obstruction, and it is about time for them to end the investigation. We don't want to signal our action if this doesn't work — we are going to hope they listen to us — but obviously we have a Plan B and C."
[Image via Alex Edelman-Pool/Getty Images]
Have a tip we should know? [email protected]