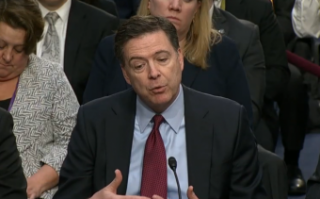 One could almost feel the collective pain of certain conservatives and Bernie Sanders backers longing for a criminal indictment of Hillary Clinton. The saber dashing those dreams; media reports that, thus far,  the FBI has not found criminal wrongdoing in their investigation of her email server. For those who've gambled their reputations on an indictment, that would mean swallowing some bitter humble pills.
As I have explained before, criminal wrongdoing can and should not be equated with doing wrong. Based on what we know now, I believe Clinton is only guilty of the latter but who knows what the investigation uncovers.
If one only reads certain conservative blogs, however, you might expect an indictment, or at least the request for one, is a foregone conclusion and that the only issue is whether FBI Director James Comey should resign in protest when he recommends charges and the Justice Department refuses to act on that recommendation. In this myopic world, anyone who suggests that Clinton did not commit a federal crime must be a Hillary loving, liberal zealot blinded by political partisanship.
Except that FBI Director James Comey is a Republican who worked for, and supported, George Bush. And then maxed out his donations for Mitt Romney's campaign too. More important, in the legal community he is universally respected for his willingness to make tough, often politically inexpedient, decisions no matter which party it benefits or even which President/boss it may alienate.
In this day and age, it is nearly startling that his nomination for FBI Director was supported almost unanimously in the Senate (oh Rand). He is also no stranger to taking on the Clintons and reaching some damning conclusions. Bottom line, we should all wish there were more James Comeys in law enforcement and if he decides the law was broken, then team Clinton will have suffered an encumbering blow (regardless of whether it results in an actual indictment). But if he does not, I certainly hope the smear machines will move on and rev up their engines for a more appropriate and deserving target.
Have a tip we should know? [email protected]
Dan Abrams - CEO and Founder