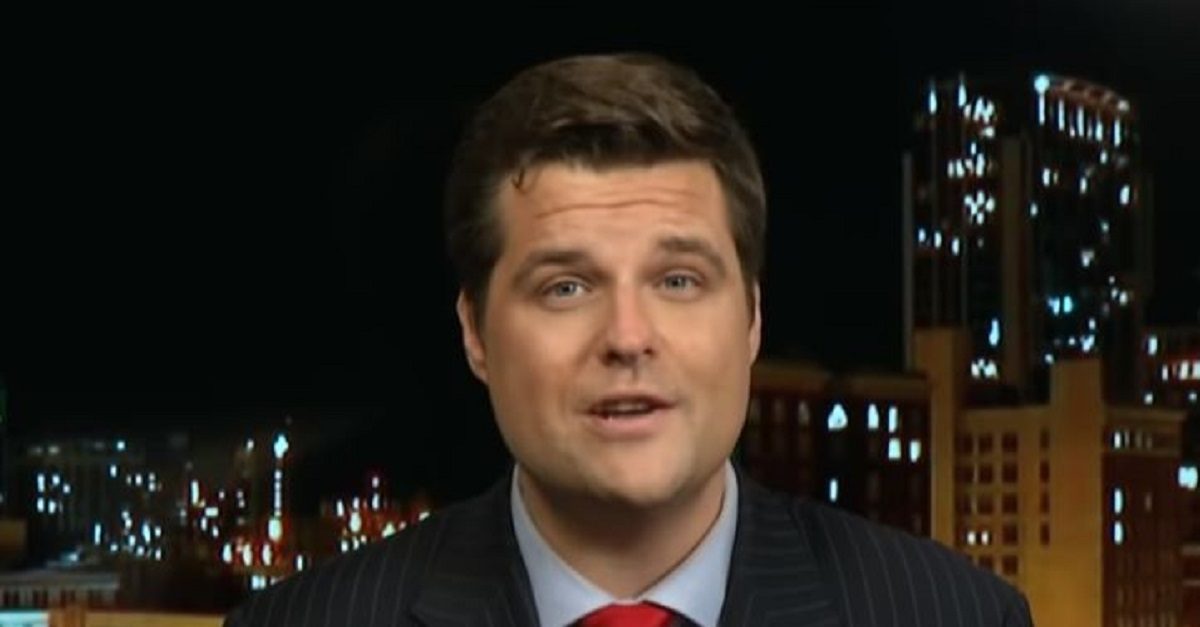 The Florida Bar investigation of Rep. Matt Gaetz (R-Fla.) may have just gotten a little easier. Gaetz is being looked at for a tweet he posted (and since deleted), that appeared to threaten Michael Cohen before Wednesday's public hearing in front of the House Oversight Committee. Now, there's a report that Gaetz may have posted it on Trump's behalf.
Edward-Isaac Dovere of The Atlantic said that Gaetz was overheard speaking to President Donald Trump on the phone Wednesday night, saying, "I was happy to do it for you," apparently in reference to the tweet.
Call happened at just before 9 PM last night DC time, which means that the president was making this phone call as he headed into his meetings with Kim for the day (Hanoi is 12 hours ahead), which of course seem to have fallen apart not long after https://t.co/XmG3ywhEDz

— Edward-Isaac Dovere (@IsaacDovere) February 28, 2019
Gaetz, who isn't even on the House Oversight Committee–or either of the other committees Cohen was scheduled to meet with this week for closed hearings–had posted this message on Tuesday:
Hey @MichaelCohen212 – Do your wife & father-in-law know about your girlfriends? Maybe tonight would be a good time for that chat. I wonder if she'll remain faithful when you're in prison. She's about to learn a lot…
When Dovere asked Gaetz about his chat with Trump, the Congressman didn't deny it, but said he does not discuss conversations with the president.
Upon learning about the alleged conversation, former White House ethics lawyer Walter Shaub weighed in with a tweet that he directed to the Florida Bar. Shaub noted four points that he believes are significant when evaluating the ethics case against Gaetz. First, and most obvious, that Gaetz appeared to threaten a Congressional witness. Next, he mentioned that Gaetz isn't even on the committee, so there's no valid reason for him to be involved at all. Third, no one at the hearing said anything to Cohen even remotely related to what Gaetz tweeted. Lastly, Shaub noted the report that it was done for Trump is significant as well.
.@TheFlaBar, this is relevant to your investigation of @mattgaetz: (1) he threatened a committee witness; (2) he's not a committee member; (3) his allegations were not raised in the hearing, suggesting he had no basis; and now (4) he reportedly admitted to doing it for Trump.

— Walter Shaub (@waltshaub) February 28, 2019
Now, as far as Gaetz's alleged comment to Trump about doing it for him, that could certainly be taken in different ways without additional information. Gaetz reportedly told The Daily Beast's Sam Stein that he hadn't spoken to anyone in the White House before he posted the tweet.
Gaetz told me two days ago he "100 percent" did not talk to anyone in the White House about his threat to Cohen prior to tweeting it https://t.co/rGrBqa88Gx

— Sam Stein (@samstein) February 28, 2019
If true, that could rule out any kind of conspiracy or claim that Trump was behind a threat. At the same time, it still doesn't help Gaetz a whole lot. If what he meant by, "I was happy to do it for you," was that he was glad to do something to support the president, that's still evidence of a motive for making the threat, providing proof that this was an intentional, politically-motivated message.
Gaetz now has the opportunity to respond to the Florida Bar before they decide whether to move forward with their investigation. Should they find him in violation of their rules of professional conduct, they could hit him with a range of disciplinary measures, ranging from a public reprimand to suspension or revocation of his license to practice law in the state.
[Image via Fox News screengrab]
Have a tip we should know? [email protected]