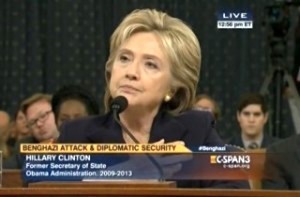 A new report could indicate a major shift in the direction in the Hillary Clinton email scandal and as a legal matter, that could spell trouble for the Presidential candidate.
According to Fox News, the FBI is now investigating a possible "pay for play" allegation between the Clinton Foundation and the State Department business.
If those sources are accurate, that presents a new and potentially more threatening chapter for the former first lady. Why? Because generally speaking, an alleged conflict of interest like this more clearly violates federal law (as opposed to the fuzzy rules on public/private emails) and is easier to prove if investigators have the goods.
"It is not unusual for a public corruption investigation to start in one place, cast a wide net, and end up ultimately going in another direction," Bill Thomas, a former federal prosecutor, told LawNewz.com
"The agents are investigating the possible intersection of Clinton Foundation donations, the dispensation of State Department contracts and whether regular processes were followed," a source told Fox News.
The question at hand, is whether people, countries or organizations who donated to the Clinton's Foundation, were somehow given favorable treatment — or contracts by the State Department while Hillary was in office. Or if Hillary Clinton somehow used her position to refer business to the Clinton Foundation.
Here's an example of the type of situation that federal investigators may be looking into (Via Washington Post):
"The email exchange, in which Soros warned of growing unrest in Albania, illustrates how Clinton interacted with major donors to her family's causes during her tenure at the State Department."
"Reading someone's emails could uncover evidence of other crimes and allow you to identify other witness, other potential charges," Thomas said.
The Washington Examiner reported earlier this year about a Clinton donor – a Nigerian businessman — who may have benefited personally from State Department policy while Hillary Clinton severed as secretary of state. This is another example of a public corruption case that the FBI may be probing.
Before we learned of the expanded FBI probe, we heard federal prosecutors were looking into possible violations of federal law as it relates to the maintenance and distribution of classified emails. As the U.S. Department's Office of Inspector General reported last week – the State Department may have exploited a loophole. That's not illegal.
But these other potential violations could be, and may be, easier to prove– especially now that investigators have access to so many emails. So while the other allegations would have required some creative interpretation of the existing statutes, this could much more straightforward and for Clinton, perilous.
Have a tip we should know? [email protected]
Rachel Stockman - President / On Air Host