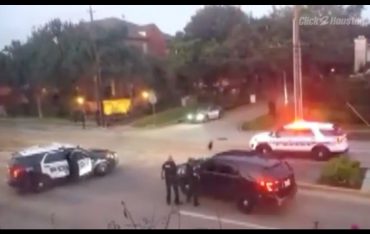 The man who police say was responsible for a shooting this morning in Houston that wounded nine people was reportedly dressed in clothing with Nazi paraphernalia during the attack.
A new report by Click2Houston.com cites information from two law enforcement officials that the gunman was "wearing what appeared to be an antique German uniform with Swastikas on it."
Additionally, the report states investigators also uncovered Nazi paraphernalia during a search of the gunman's condo on Monday.
However, during a press conference late Monday afternoon a police investigator seemed to slightly push back against jumping to conclusions about the reports.  The investigator confirmed the gunman was dressed in "vintage" military clothing, but he could not say for sure what nationality or type of uniform he was wearing.
The investigator also said they found other military collectibles inside the gunman's condo dating back to the Civil War.
Ultimately, he told reporters police were not yet ready to assign a motive to the attack and declined to say whether terrorism or anti-Semitism played a role.
Around 6:00 a.m. on Monday morning police in Houston responded to calls of a shooting near a shopping center in southwest Houston. Police say a gunman fired shots at them when they arrived on scene, so they returned fire and killed him.
Unfortunately, the gunman managed to wound nine individuals before police arrived.  Six of the wounded individuals were taken to the hospitals, some in serious and critical condition. At a press conference late on Monday officials said they are hopeful all of the victims will survive.
Have a tip we should know? [email protected]