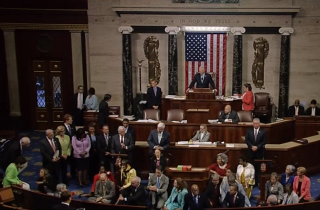 After last week's Democratic filibuster failed to produce any progress towards gun control reform, on Wednesday, House Democrats, led by Rep. John Lewis,  tried another tactic: a good, old-fashioned sit-in. Their goal is to force a vote on a proposed bill that would keep people on the "no-fly" list from buying guns.
"We have lost hundreds and thousands of innocent people to gun violence," Lewis said. "And what has this body done? Mr. Speaker, not one thing. We have turned deaf ears to the blood of the innocent and the concern of our nation." Declaring that they must occupy the floor of the House of Representatives until action is taken, Lewis and other members of Congress then seated themselves on the ground.
WATCH @HouseDemocrats stage sit-in on House floor. "We have to occupy the floor of the House until there is action."https://t.co/RFFeRWDcdp

— CSPAN (@cspan) June 22, 2016
The Republican chair then declared a recess, saying that the House was out of order. Once that happened, C-SPAN cameras were shut off, as they are only able to broadcast when the House is officially in session.

Many people, including U.S. Rep. Cathy Castor, took to Twitter to express their displeasure:
.@CSPAN, a non-profit dedicated to open government, has broadcasted the House since 1979. Those cameras were just shut off by @SpeakerRyan.

— (((Dan Ewen (@VaguelyFunnyDan) June 22, 2016
Shameful @HouseGOP turned off CSPAN cameras to block 🇺🇸 from witnessing #HoldTheFloor Sit In to #DisarmHate pic.twitter.com/zwhXSfyFrf

— US Rep Kathy Castor (@USRepKCastor) June 22, 2016
GOP totally committed 2 free speech which is why they shut down the cameras when someone started talking gun control https://t.co/aI20mZc9NM

— Judd Legum (@JuddLegum) June 22, 2016

But that didn't deter people from holding their ground on the floor, or broadcasting it to the internet, like Rep. Scott Peters did.
LIVE on #Periscope https://t.co/WljqPiFScM

— Scott Peters (@ScottPetersSD) June 22, 2016
LawNewz.com will update this story as it develops.
Have a tip we should know? [email protected]