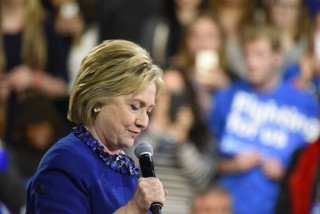 A complaint was filed today demanding the Federal Election Commission investigate and impose sanctions on a super PAC backing Hillary Clinton and a government contractor. The allegations come after Priorities USA Action accepted $200,000 in contributions from Suffolk Construction, a government contractor, in violation of federal law, according to the Campaign Legal Center. The non profit group filed the complaint with the FEC. Priorities USA is one of the largest super PACs backing Clinton in her 2016 presidential campaign.
"Super PACS and their deep-pocketed donors should not be allowed to skirt and violate the laws we have in place to protect the integrity of our democracy," Paul S. Ryan, the deputy executive director of the Campaign Legal Center said in a statement.  The law prohibits federal contractors from making contributions to political campaigns or super PACs .
"Priorities USA knew about the company's status as a contractor at least as early as April 2016, when the Center for Public Integrity asked the super PAC for comment — and then published a story– about Priorities USA receiving contributions from the contract," the statement reads. However, the super PAC didn't return the money until after The Hill and other media outlets, including LawNewz.com, published stories raising questions about what happened.
"Based on our internal accounting, the contract appeared to be completed as the project was over four years ago. We notified the Committee of this ambiguity, and they decided to return their contribution," Dan Antonellis, who works for Suffolk Construction reportedly said in a report last week.
Have a tip we should know? [email protected]
Rachel Stockman - Editor in Chief / On Air Host