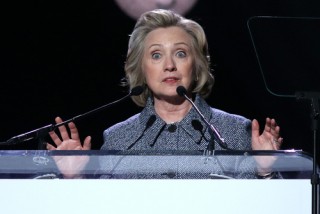 Democratic hopeful Hillary Clinton thinks it's a "great idea" to appoint President Barack Obama to the U.S. Supreme Court. At least, that's what she told a group of Iowa voters at a town hall this week. She added "he is brilliant and can set forth an argument."  The reality is there is only one precedent for this in all of  United States history (and a rather large one at that). If this happened, Clinton would be entering into some unchartered territory in the legal world.
Here's why:
As I said, it's only happened once before. President William Howard Taft was appointed to the U.S. Supreme Court in 1921. But, what is notable about his appointment is that it came 8 years after he left the White House. Enough time to pack on a few pounds (he weighed 340 lbs) and let any clashes that might arise from his presidency wash away.
Next, it would leave Obama open to a dozens of potential conflicts of interest on the bench. Justices must recuse themselves from hearing cases in which they are involved in anyway. A federal statute requires that judges who previously served as counsel or adviser to bow out of the case. This could be a problem for Obama.  Just to give you an idea,  Justice Elena Kagan served as President Obama's Solicitor General from March 2009 to March 2010 — just one year. During her first Supreme Court term, the court issued signed opinions on 75 cases. According to Scotusblog.com, Kagan recused herself from 28– that's more than a third!  President Obama certainly has his hand in significantly more legal matters than Kagan. Many of those are bound for a higher court review including  the Affordable Healthcare Care Act, and his executive orders regarding immigration and gun control. (just to name a few)
Lastly, while Obama is a Harvard Law grad, and a former constitutional law professor, he's got no experience on the bench. While that's not unheard of, it is unusual. Most U.S. Supreme Court justices have a long history of serving on either lower federal or state courts. There, they gain experience drafting opinions, and hearing arguments from both sides.  The last time a justice was appointed without any prior judicial experience was back in 1972. Chief Justice William Rehnquist served as Assistant Attorney General of the Office of Legal Counsel under President Richard Nixon before being appointed to the bench.
When the next president of the United States is sworn in, there will be three justices in their 80s (Ginsburg, Scalia, and Kennedy). The average retirement age is 79, according to a recent study. That means there will likely be at least one vacancy. And depending who is elected, the proposition of a Justice Obama might very well become a reality.
Have a tip we should know? [email protected]
Rachel Stockman - President / On Air Host