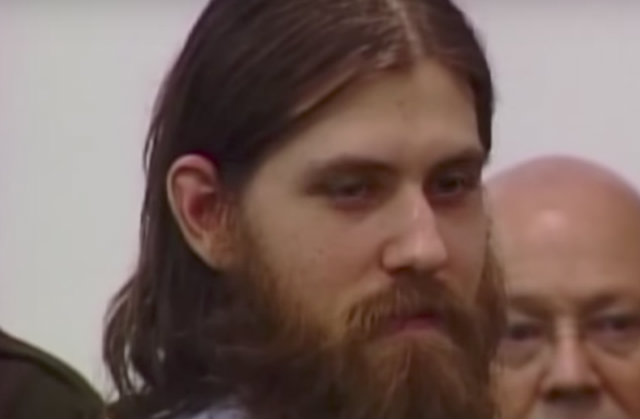 Convicted killer William Morva will be executed Thursday at 9 p.m., but he has a surprising ally trying to keep him alive: his victim's daughter.
"I am against the death penalty for religious and moral reasons," Rachel Sutphin wrote in a statement obtained by NBC News. "I have fought and will continue to fight for clemency for all death row inmates until Virginia declares the death penalty unconstitutional. I have sent my own letter to the governor showing my support for clemency."
She said she was writing for herself, and not on behalf of the relatives of the victims. That much is clear since her own grandmother has called for the execution to go as planned.
"I have no hatred for this creature who shot him execution-style," Jeaneen Sutphin told The Roanoke-Times on Wednesday. "I just want justice for my son."
Morva was sentenced to death for killing two men in 2006. He had been locked up on attempted robbery charges, and was sent to the hospital in Blacksburg, Virginia to get treated for an injury. There, he overpowered a police officer, then shot and killed hospital guard Derrick McFarland. Before capture, he also shot Rachel Sutphin's father, Montgomery County Sheriff's Office Cpl. Eric Sutphin, in the back of the head.
His attorney and other defenders say the jury who sentenced him to death weren't told about his serious mental illness.
"In order to understand how William could've done what he did, jurors needed to know why," his attorney Dawn Davison said in a documentary. "And the reason is because he was experiencing delusions that made him believe his life was in danger, that he was going to die in that jail."
Morva's life now lies in the hands of Virginia Gov. Terry McAuliffe, a Democrat, who has yet to publicly make a decision about granting clemency. LawNewz.com has reached out to him for comment.
Others have written McAuliffe on Morva's behalf, including local politicians and even international diplomats (Morva has dual citizenship with both the United States and Hungary).
[Screengrab via CBS archive footage]
Have a tip we should know? [email protected]