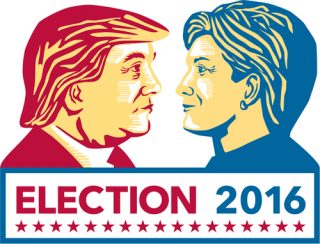 If this election has taught us anything it is that the pollsters aren't always right. Actually they have been flat out wrong. Right now, Donald Trump is projected looking to be rapidly approaching 270 votes and may win, despite many polls saying it wouldn't go that way. But, what happens if Clinton and Trump both end up with 269 electors and there is an Electoral College tie? Or –what happens if, in one of the swing states, there is a tie in the popular vote? LawNewz.com goes through the what-if scenarios.
Trump and Clinton both with win 269 electors and tie. 
The National Archives takes us through the process:
"If no candidate receives a majority of Electoral votes, the House of Representatives elects the President from the 3 Presidential candidates who received the most Electoral votes. Each state delegation has one vote. The Senate would elect the Vice President from the 2 Vice Presidential candidates with the most Electoral votes. Each Senator would cast one vote for Vice President. If the House of Representatives fails to elect a President by Inauguration Day, the Vice-President Elect serves as acting President until the deadlock is resolved in the House."
As explained, each state's Congressional House delegation would have exactly one vote. It seems weird but even though California has 53 districts and Vermont has only one, both states get just one vote. So the representatives would have to decide amongst themselves who to vote for. Either Trump or Clinton would need to win at least 26 states to walk away with the presidency.  Since there are more Red states, Trump would likely win in this scenarios.
However, there is a caveat. Even if on election night the pundits declare "an electoral college tie" that doesn't mean that there will be an actual tie when the electors go to vote. The Electoral College convenes on December 19, 2016 to officially cast their votes.
There is no Constitutional amendment or federal law that requires Electors to vote with the popular vote. However, about half of the states have any laws on the books requiring electors to vote with the popular vote. But that doesn't mean they will. Those that don't are called "faithless electors."  Since the Electoral College was founded, there have only been 157 faithless electors, but they sure have the potential to change an election.
And, in fact, there is already a Democratic elector in Washington State who says he is refusing to cast his vote for Hillary Clinton even if she wins the popular election because she is a "criminal."  Interestingly, Washington State imposes a fine on any elector who votes for someone other than the party's nominee. But, if electors don't follow or don't care about the law, that could definitely sway a tied vote to one candidate or the other. If that happens, you can bet, the losing party (Trump or Clinton) will take legal action.
What happens if there is a tie in the popular vote in a state? 
Well, each state has different laws in place about what could happen in this scenario. 20 States have laws on the books that trigger an automatic recount if the election is close. For example, in Florida, scene of the famous Bush v. Gore showdown, an automatic recount is triggered when the margin of victory is .5% or less.
According to the National Conference of State Legislatures, 43 states and the District of Columbia permit a losing candidate, a voter, a group of voters or other concerned parties to petition for a recount. (Arizona, Connecticut, Florida, Hawaii, Mississippi, South Carolina, Tennessee and the District of Columbia do not.)
Bottom line: if this happens, we could see another repeat of 2000, especially if the close vote is in a state which has a large number of electors. We will update more with more specific laws if things start looking like they are getting tight in one particular state.
[image via  patrimonio designs ltd / Shutterstock.com]
This post has been updated, and corrected to reflect that the House didn't decide Bush v. Gore. 
Have a tip we should know? [email protected]
Rachel Stockman - President / On Air Host