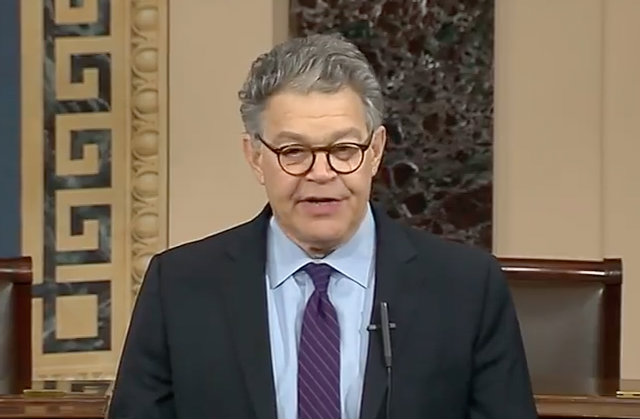 It happened: Al Franken resigned from the U.S. Senate on Thursday amid allegations of forcible kissing and groping. Now what? Who will replace him and how? The 17th Amendment sets the framework for filling Senate vacancies. The governor will appoint the immediate replacement. That person serves out the rest of the Senator's term unless the state legislature establishes a law for special elections.
When vacancies happen in the representation of any State in the Senate, the executive authority of such State shall issue writs of election to fill such vacancies: Provided, That the legislature of any State may empower the executive thereof to make temporary appointments until the people fill the vacancies by election as the legislature may direct.
Franken served Minnesota, so under that state's law, Gov. Mark Dayton, a member of the Minnesota Democratic-Farmer-Labor Party, will appoint the temporary replacement. For now, it's unclear who that's going to be. A "high-ranking Democratic source" said Dayton will likely tap Lt. Gov. Tina Smith, according to The Star Tribune on Wednesday.
Because the vacancy occurred at least 11 weeks before the state's Democratic Party primary scheduled for next August 14, Minnesotans will next vote on Franken's seat in the November 2018 mid-term elections. The winner will serve out the rest of his term, which ends on January 3, 2021.
[Screengrab via CBS]
Have a tip we should know? [email protected]