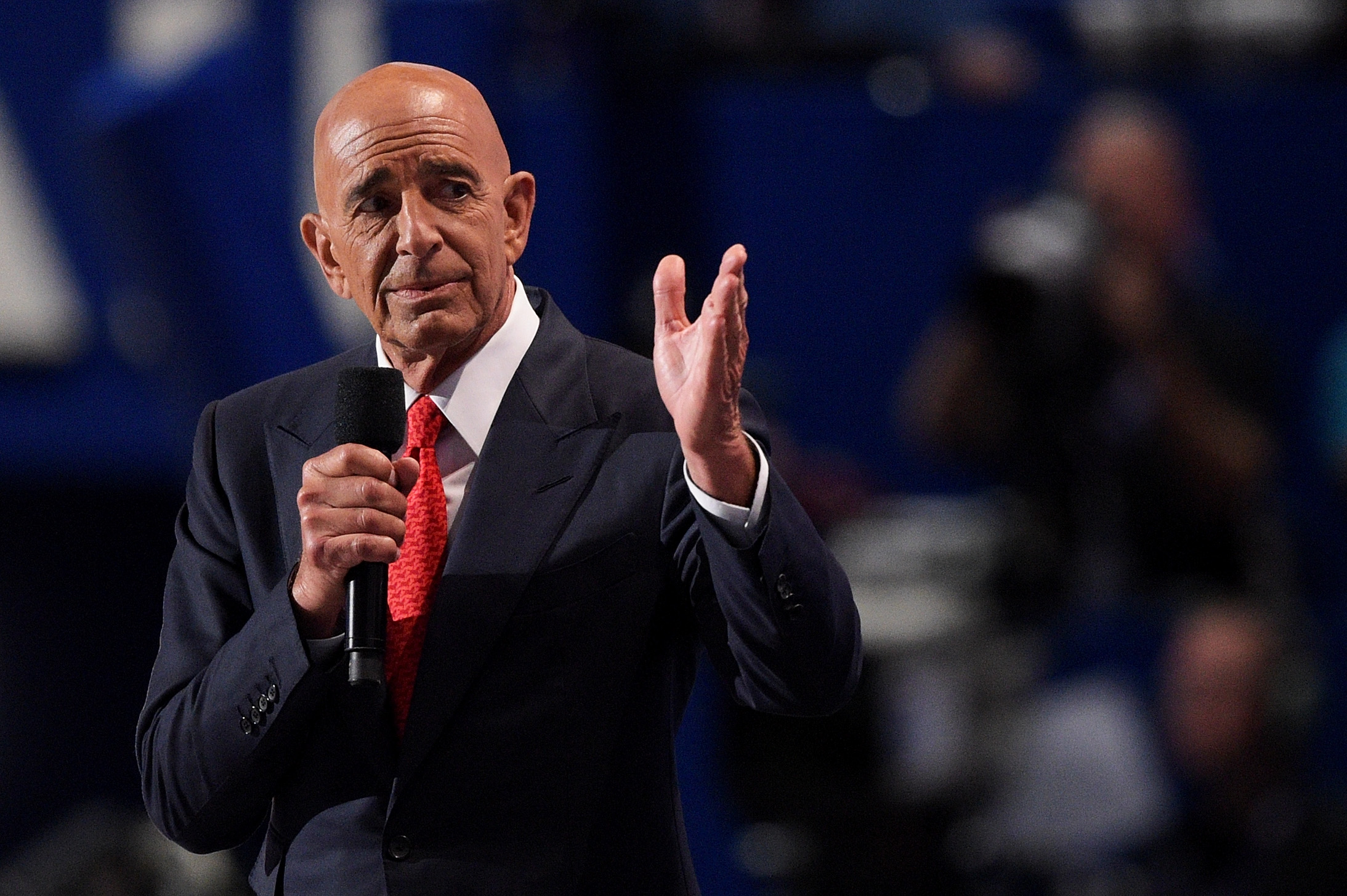 The Associated Press reported Saturday that President Donald Trump's longtime billionaire friend and adviser Thomas Barrack, Jr. had been questioned by Robert Mueller's team as part of the Russiagate investigation. Here are five key facts about the former Miramax chair and part-owner of Michael Jackson's Neverland Ranch.
1. Trump's People View Barrack With Suspicion Over Manfort Ties
According to the Washington Monthly, multiple White House advisers were unhappy with Barrack for convincing Trump to keep Richard Gates on the 2016 campaign after the departure of Paul Manafort. Barrack is said to have once been Gates' "patron" and provided him with political work. Gates also previously served as the Washington director of Barrack's real estate investment company. (Gates eventually pleaded guilty to conspiracy against the United States and making false statements to the FBI.)
The same report notes that Barrack is the person who likely convinced Trump to hire Manafort in the first place and that Manafort and Barrack have a relationship going back some 40-plus years. Notably, Barrack also served as the American representative for the Kingdom of Saudi Arabia–work that took him to Beirut, Lebanon. It was during this time period when Manafort and Barrack became good friends. Manafort would later spend time on Barrack's yacht after being canned by Trump 2016.
2. Barrack Suggested Kanye West Wasn't 'Traditionally American'
Barrack chaired the Presidential Inaugural Committee for president-elect Donald Trump. Notably absent from the stable of performers was Trump aficionado Kanye West. When asked about the possibility of West lending his efforts to the inauguration, Barrack dismissed the idea. He said, "We haven't asked him. He's been great. He considers himself a friend of the president-elect, but it's not the venue. The venue we have for entertainment is filled out. It's perfect. It's going to be typically and traditionally American."
3. His Pro-Trump Super PAC Hasn't Lived Up to Expectations
Barrack's pro-Trump Super PAC, Rebuilding America Now, was rolled out during the summer of 2016. According to the Federal Election Commission, Rebuild America Now's treasurer is one Ryan R. Call. Call is a Colorado-based attorney who works with "free market"-oriented think tank R Street as a regional director. According to a June 2016 CNN report, Barrack's effort was meant to begin with $32 million in commitments. An OpenSecrets summary, however, shows the group only raised and spent some $23 million during the 2016 election.
Of the Super PAC, Barrack said, "These super PACs have meaning, they have purpose, but they have been viewed historically as being not so trustworthy. So the idea of having a solid, trustworthy — with no skimming, no float — that's aligned with the candidate but is not coordinating with the candidate, is key."
4. He Wanted to Save the Weinstein Company (Until He Didn't)
After The Weinstein Company faced the prospect of certain corporate death following Harvey Weinstein's long-time-coming reckoning over allegations of sexual assault, abuse and rape, Barrack planned to resuscitate the production company. In October 2017, The Weinstein Company announced that it had "entered into a preliminary agreement with Colony Capital," Barrack's Los Angeles-based private equity real estate firm, in order "to provide an immediate capital infusion into the Company."
Of the deal, Barrack said, "We are pleased to invest in The Weinstein Company and to help it move forward.We believe the Company has substantial value and growth potential…We will help return the Company to its rightful iconic position in the independent film and television industry." It was later reported that the Colony-Weinstein deal had been scuttled and Barrack amended his prior estimation, saying the company was "a patient that's dying on the table."
5. His Time in Government Was Quick and Controversial
During the Reagan administration, Barrack served as assistant secretary of the Department of the Interior under then-secretary James Watt. Watt was a much-despised figure due to his rapid evisceration of environmental protection policies once taking office. According to a 1981 article by the Washington Post, "no member of the Reagan team with the possible exception of Secretary of State Alexander M. Haig Jr. has stirred quite so much unease among his allies and antagonism among his opponents." Barrack's duties are said to have included policy outreach and working with interest groups.
In 1983, Watt was forced to resign after racially-charged comments increased his political liability to the Reagan administration–who had been pleased as punch with his anti-environmental posture–but Barrack had long-since left government at that point (he only served for three months in Watt's office before moving to the Commerce Department and then abruptly quitting.) Still, as Watt faced the prospect of an all-but-certain resignation-in-disgrace, he retreated to a ranch owned by his former aide, Thomas Barrack.
[image via Jeff Swensen/Getty Images]
Follow Colin Kalmbacher on Twitter: @colinkalmbacher
Have a tip we should know? [email protected]