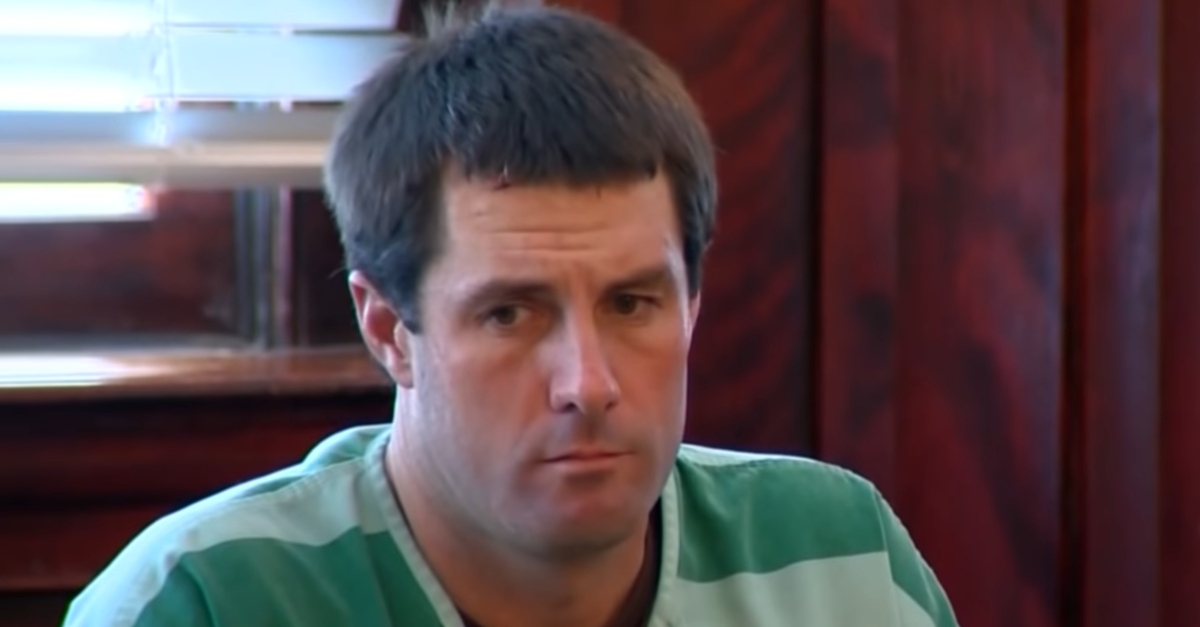 The Colorado man accused of first-degree murder and solicitation of murder in the death of his 29-year-old fiancée Kelsey Berreth had himself quite a day in court on Tuesday. A closer look at the testimony shows that the walls are closing in on Patrick Frazee, who is already in trouble because Idaho nurse Krystal Lee is testifying against Frazee and has admitted that she disposed of Berreth's cell phone out of "fear."
Although police still haven't found Berreth's body, the theory is that she was murdered at her apartment by the father of her 1-year-old child on or around Thanksgiving, FOX31 reported. Prosecutors have filed additional charges against Frazee, including tampering with a deceased body and two charges of committing a crime of violence.
Weeks after Berreth's disappearance, Frazee was arrested. Authorities would investigate how Berreth's cell phone had pinged all the way over in Idaho, leading police to Lee, a confession, and Tuesday's preliminary court hearing.
The prosecution is making its best case for why the Frazee case should go to trial. According to 9News, things got off to a rocky start when the prosecution attempted to call Frazee's mother Sheila to the stand, but her attorney cited her Fifth Amendment rights.
Woodland Park Police Department Patrol Officer Chris Adams was called to the stand instead and he discussed what Frazee allegedly told investigators after Berreth's mother reported her missing. Berreth hadn't been seen or heard from since Nov. 22 and her mother called police on Dec. 2. A recording of Officer Adams talking to Frazee reveals that Frazee claimed Berreth wanted to separate because the commute to her job was too burdensome. Google Maps indicates that the distance between Woodland Park and Pueblo, Colorado is approximately 60 miles.
Frazee claimed Berreth got all of her stuff before leaving and asked him to "give her space."
"In the middle of the week, she had basically a heart-to-heart about how, you know, this wasn't working out," Frazee said in the recording. "She wanted to go our separate ways."
"Our lives grew so far apart in the past year-and-a-half or year, we don't know each other anymore," he added.
He also mentioned that they discussed what to do in terms of custody of their young child.
Officer Adams said that both Frazee and Berreth's phones pinged at Frazee's house the last day that Berreth was seen (Nov. 22). Two days later, Officer Adams said, Frazee called Lee on the phone. The next day, Berreth's phone pinged in Utah and then in Idaho. Police said that Berreth's phone and Lee's phone pinged at nearly the same time, which indicated to them that the phones were together.
In other words, that was a big mistake.
Adams said that analysis of Berreth's Facebook and Gmail accounts indicated that she was not planning to leave as Frazee claimed. Berreth's mother Cheryl, it was noted, told authorities that she spoke with her daughter before she went missing and said that there was no mention of a sudden trip.
By Dec. 6, police began to focus on Berreth's apartment, where they found some traces of blood in the bathroom. They also say they found that when Frazee called Krystal Lee, a cell tower that services the area by Berreth's apartment pinged.
Police said they contacted Lee and Lee told them that at one time Frazee called Berreth a "terrible mother" who was "physically abusive" to their child and had a history of alcohol and drug abuse.
Shockingly, Lee claimed that after Frazee suggested putting poison in his fiancée's caramel macchiato from Starbucks she showed up at Berreth's apartment and pretended to be a thankful neighbor but couldn't go through with it. She apologized to Frazee and claimed Frazee told her there'd be "another chance."
The hearing paused on a couple of occasions for breaks, once in the morning and once in the afternoon. After the break, authorities testified that Lee told them she didn't kill Berreth, but considered it because she "loves Patrick and wanted to please him." Then came testimony about the killing itself.
Lee claimed that Frazee contacted her on the day Berreth was last seen because there was a "mess to clean up" and showed up two days later with rubber gloves, bleach and a white suit, only to go with Frazee to Berreth's apartment. Lee apparently described the scene as "horrific."
Colorado Bureau of Investigation Agent Gregg Slater said from the stand that Lee told him the apartment cleaning took up to four hours. Lee claimed that Frazee told her he blindfolded Berreth with a sweater so she could guess the scent of candles only to beat her to death with a baseball bat, transport her body in a black bag to his property and burn it in a trough.
Lee said that while she cleaned up the scene at the apartment, Frazee had Thanksgiving dinner with his family.
Editor's note: this story has been updated with additional information as the hearing has gone on.
[Image via Fox 31 Denver screengrab]
Have a tip we should know? [email protected]