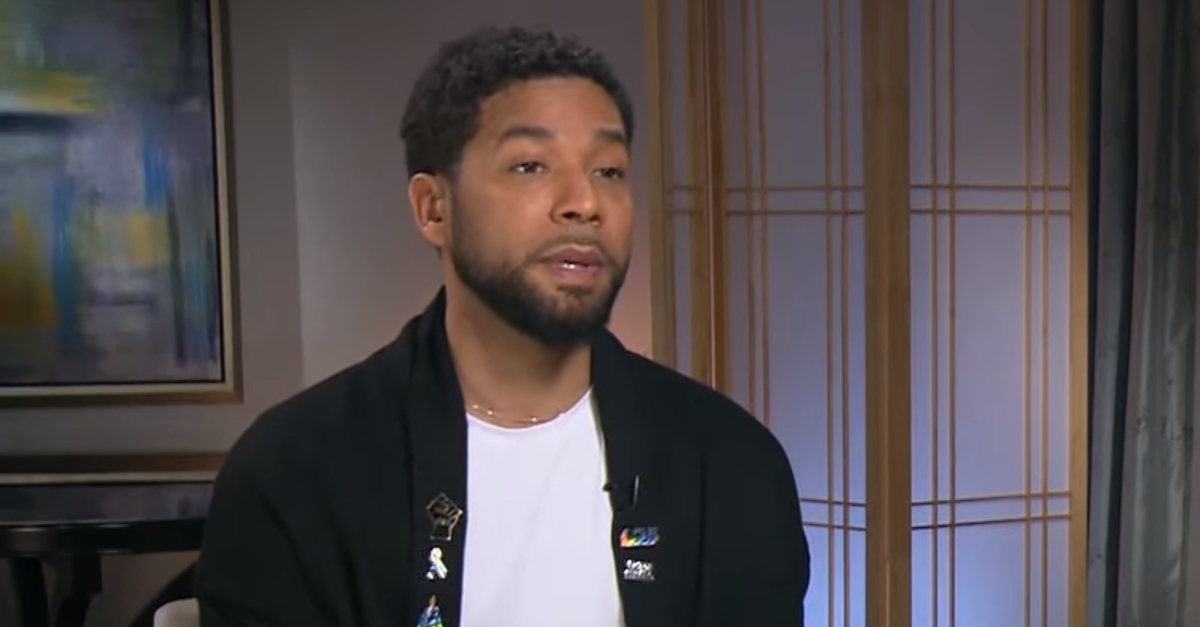 Jussie Smollett, by all accounts a fine actor, has done the unthinkable. He went sobbingly on TV to present himself, especially to the intersectionality of African-Americans and LGBT individuals (he being both), as a defenseless victim.
For whatever reason, he pointed his finger at two "violent" men whom, he complained to the police, violently attacked him one night, last month in Chicago in a racist, homophobic rant. A "hate crime" if ever you saw one!
And now, based on their accounts, it appears that Smollett may be the true wrongdoer, not them.
It appears to be a set up, presumably designed to present Smollett as a very public victim, for reasons still unknown; and who would want to speculate about the reasons given how the story has so radically turned? The result? The police un-arrested the two men and decided to re-interview the "victim" — or should we call him the accuser? Now, Smollett's role in this mess is his own doing, but what about his lawyers? This cannot be an easy time for them.
After there was considerable public speculation that Smollett's account was false, Smollett's lawyers made a supportively public statement sticking to his original "victim" account, and maintaining that the accusations of a false report by him were just false. In other words, Smollett's lawyers backed his story.
Surely, a zealous lawyer is ethically entitled to believe and act on his client's account by making a public statement on the client's behalf even in the face of compelling evidence against it. And counsel may also rely on his client's account to him even if he himself doesn't really believe it. Of course, the wisdom, strategically, of making a public statement supporting the client's account after the worm has turned so publicly and unfavorably is another story. A lawyer's duty is to at least try to talk the client out of doing something stupid.
But what's a lawyer to do when the evidence is piling up and the police want to re-interview the client? Yes, the trusting lawyer can bring the client for the interview even if he doesn't believe the client, as long as the client has consistently denied to him the scam. But any competent lawyer would know that an interview will likely make the situation worse for the client. The police will simply have far more information – not to mention the accounts of the two alleged "confederates" — than when, at intake, the client presented himself as a handkerchief-toting, sympathetic victim adorned with bruises occasioned by the alleged assault.
Now, some lawyers will ask the client to take a "private," privileged lie detector examination given confidentially by a polygraph expert retained by counsel. If the result is favorable, they will tell and give the exonerating results to the police. If bad, the result will, appropriately and consistent with the attorney-privilege, never see the light of day.
But short of a favorable polygraph, "bringing the client in" would likely be a dreadful mistake. Yes, there will be a price to be paid for declining a police re-interview or refusing to testify before a grand jury if such a request eventuates. The public will invariably learn of such a declination from a leak – especially when the police believe they've been hosed. But if Smollett is ultimately charged, to have engaged in a second series of lies will only have made the situation worse.
And that's really where the lawyer's obligations and strengths come into play. Telling a client — even a client who wants to stick to his increasingly bizarre story for those who continue to be his wide-eyed public (despite mounting evidence against him) — that he needs to stand down may be the hardest job a lawyer will face. That will be the test of how good the lawyers really are. This especially when a refusal to be re-interviewed is, it appears, likely to lead to Smollett's potential arrest — no judgment intended — for having made a false report, at a time when such false reports sorely undermine serious hate crime complaints by others made in good faith. (By the way, it seems that Smollett may have new lawyers, and it's not hard to imagine why).
Indeed, it seems, the only worthwhile reason to bring the client to the police for a re-interview is if the client — willing to bite the bullet, after having acknowledged to his lawyers the fact of his false complaint – recognizes that a remorseful admission to the police (and to the public at large) will be the path of least resistance, and the path resulting in the least amount of pain for him going forward. A hard job indeed for the lawyer, and a place where he really earns his keep (once he really knows what happened).
Joel Cohen practices white collar criminal law at Stroock & Stroock & Lavan LLP and is an adjunct professor at Fordham Law School. He is the author of Blindfolds Off: Judges on How They Decide and Broken Scales: Reflections on Injustice. Dale Degenshein is special counsel at Stroock and contributed to Broken Scales.
[Image via ABC screengrab]
This is an opinion piece. The views expressed in this article are those of just the author.