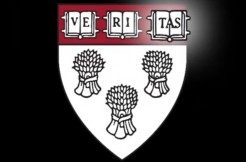 Administrators at Harvard Law School decided Monday that their seal, which depicts the crest of a slaveholding family, wasn't a good look, so they're replacing it with a new one.
The Harvard Corporation, the University's executive board, made their decision after a committee of teachers recommended they drop the seal on March 3 while a student activist group "Royall Must Fall" had been pushing for the same.
The crest, which depicts three sheaves of wheat, comes from the Royall family. They were a powerful slave-owning clan in Colonial America. It was Isaac Royall, Jr. who left land to Harvard College to set up a professorship in law, leading to the creation of Harvard Law School in 1817.
This wealth came from his family's sugar and rum holdings—which back then, meant they owned a lot of slaves to do the work. Sugar plantations featured the worst working conditions for enslaved peoples, where death rates were so high "the labour force had to be renewed every decade," according to a partnership of eight museums in Manchester, England.
A petition calling for the seal's replacement said that the Royall family was responsible for "the brutal torture and murder of 88 enslaved persons" in their landholdings in Antigua during the mid-1730s. "Seventy-seven enslaved people were burned alive, six were hanged, and five were broken on the wheel—a torture device whereby people's bones were crushed until they bled to death."
So yeah, Harvard looked at all that and decided to part ways with their seal. In a letter to the Law School Dean Martha L. Minow, University President Drew G. Faust and Corporation Senior Fellow William F. Lee suggested she recommend a new seal in time for the 2017 bicentennial.
[h/t Harvard Crimson]
[image of Law School seal via Newsy screengrab]
–
Follow Alberto Luperon on Twitter (@Alberto Luperon)
Have a tip we should know? [email protected]