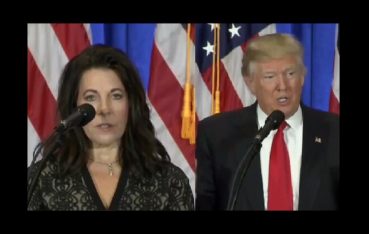 Well-known legal scholar, recognized constitutional law expert and member of the faculty at Harvard Law School, Professor Laurence Tribe, went on a Twitter rampage for the ages on Wednesday.  It was all in response to President-elect Donald Trump's major press conference at which his lawyer, Sheri Dillon, was tasked with explaining the plan devised by Trump's legal team for how his businesses will be run while he is serving as president.
Tribe even went on to tell LawNewz.com that "the whole phony setup would make President Trump a living, walking, talking, tweeting violation of the Emoluments Clause each time banks or funds linked to foreign sovereigns are allowed to take steps that Trump will necessarily know are enriching the total value of his family's mega-business." Ouch.
Essentially, Trump's plan calls for his sons to takeover the day-to-day operations of Trump's vast business holdings.  Trump, however, will not relinquish his ownership interests as some had speculated.  Instead, his holdings will go into a trust and a yet-to-be appointed trustee/ethics advisor must sign-off on any new deals that potentially raise a conflict of interest.  Furthermore, the plan provides that the Trump Organization will not conduct foreign business while he is in office, focusing on domestic deals instead.
The plan does not pass the smell test for Prof. Tribe and he fired off a series of tweets making sure his feelings were heard across the Twitterverse.
1/As I listened, my jaw dropped. Trump's workaround is a totally fraudulent runaround. A Potemkin Village of a trust at best.

— Laurence Tribe (@tribelaw) January 11, 2017
2/ Trump's announced structure is cleverly designed to dazzle and deceive, but it solves none of the serious ethical or legal issues.

— Laurence Tribe (@tribelaw) January 11, 2017
The constitutional law expert leveled perhaps his harshest criticism for Trump's attorney, suggesting she couldn't pass a constitutional law class at any decent law school.
3/Trump's lawyer would flunk constitutional law at any halfway decent law school. At least if the lawyer wasn't just joking.

— Laurence Tribe (@tribelaw) January 11, 2017
He then returned to attacking the credibility of anything coming from the President-elect.
1/Promising to donate profits from foreign patronage to us plebeian taxpayers is a ruse designed to feed the myth of Trump the Generous.

— Laurence Tribe (@tribelaw) January 11, 2017
2/Besides, when a foreign power books a Trump property for a big public event, the value to the Trump brand globally can't be shared with us

— Laurence Tribe (@tribelaw) January 11, 2017
This is not the first time Prof. Tribe has gone after Trump on this issue.  In December, he was one of several high-profile legal scholars who penned a legal article published by the Brookings Institution that argued Trump would violate the Constitution's Emoluments Clause, which says, "No Person holding any Office of Profit or Trust under them, shall, without the Consent of the Congress, accept of any present, Emolument, Office, or Title, of any kind whatever, from any King, Prince, or foreign State."
Trump's attorney, Ms. Dillion, argued any such suggestion was just flat wrong today at the press conference.
"These people are wrong. This is not what the Constitution says, paying for a hotel is not a gift or present and has nothing to do with an office. It is not an Emolument," Ms. Dillon said.
LawNewz.com spoke further with Prof. Tribe, asking him to expand a bit on the criticisms in his tweets.  Once again, he did not hold back.
He called Trump's proposal a "head-fake of the first order" and suggested whomever Trump named as an ethics advisor for his trust is likely to be just some "lackey."
He then addressed a point in the press conference today when Ms. Dillion addressed what will happen with the profits of foreign government officials saying in his new D.C. hotel.
"President-elect Trump has decided that he is going to voluntarily donate all profits from foreign government payments made to his hotel to the United States Treasury," Ms, Dillion said. "This way, it is the American people who will profit."
Tribe was having none of this, saying "When a foreign power or an institution directly or indirectly answerable to a foreign government pays fees or rents to a Trump property, it enriches and increases the value of the Trump brand globally . . . ."
He added, "And the fact that Trump offers to share some of the cash with us plebeian taxpayers neither accounts for the 'brand' value the foreign government has added by visibly holding its signature events at his properties nor avoids the need for making accounting decisions whose intricacy will make them utterly opaque to meaningful public scrutiny."
Prof. Tribe called the Trump "scheme" simply a "deceptive web of mumbo-jumbo rather than a serious way to comply with his constitutional oath."
The Prof. also addressed the Emoluments Clause criticisms directly, saying that it is important to "stress that the 'ethics officer' [Trump] proposes to install wouldn't have true independence, and anyway it's not only that particular transactions would be unethical; it's that the whole phony setup would make President Trump a living, walking, talking, tweeting violation of the Emoluments Clause each time banks or funds linked to foreign sovereigns are allowed to take steps that Trump will necessarily know are enriching the total value of his family's mega-business."
Ultimately, given the involvement of Trump's sons in running the Trump empire, Prof. Tribe says it sets up a scenario reminiscent of how "foreign governments often curry favor with Kings by greasing the palms of Princelings."
He explained, "Shuffling around chunks of income-producing assets within a virtually 'royal' family that's poised to cash in on the power of the Family Head to tilt national policy toward foreign states that patronize the Godfather's offspring changes nothing of substance."
[image via screengrab]
Have a tip we should know? [email protected]