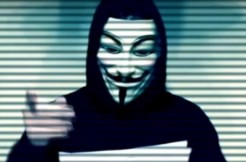 Hacker group Anonymous just declared "total war" on Republican presidential frontrunner Donald Trump. In retrospect, this was probably inevitable.
"Dear Donald Trump, we have been watching you for a long time, and what we see is deeply disturbing," an Anonymous spokesperson said in a YouTube video posted March 4. He wore the iconic Guy Fawkes mask that the organization is known for.
So why do they hate The Donald? For many of the same reasons that his other opponents do. The spokesperson cited his calling Mexican immigrants rapists, his gross smack talk against women, his lawsuit against Spanish language TV channel Univision, and those times he joked about hitting on his daughter.
They called his actions "appalling," and that he is running for president only for "greed and power."
Now Anonymous is asking hackers to help shut down his websites, and dig up compromising information on the Republican front runner. All in all, the plan is to ruin his campaign.
Anonymous was founded in 2003, but it's hardly a centralized organization. It's the epitome of Internet anarchy, with loosely affiliated members picking fights just about everybody: eg. replacing an ISIS website with a Viagra ad, hacking North Korea's official Twitter page, and even threatening Facebook. But since there's no real structure to this operation, it's hard to develop a sense of who specifically is calling for this "war" against the Republican frontrunner.
So far, the group claims it posted Trump's social security number online, according to a report by Engadget.
[h/t Engadget]
[image via YouTube screengrab]
–
Follow Alberto Luperon on Twitter (@Alberto Luperon)
Have a tip we should know? [email protected]