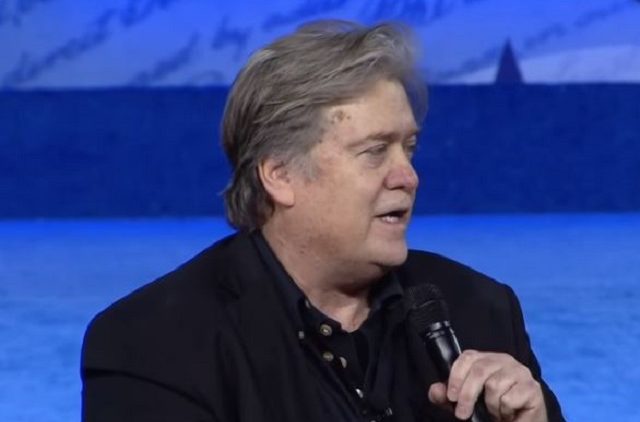 White House adviser Steve Bannon is the target of a new investigation over his use of a private, non-government spokesperson. The matter, first discussed in an article by The Center for Public Integrity, has drawn the attention of the Campaign Legal Center, who is calling on the White House to take action.
In a letter to Chief of Staff Gen. John Kelly, Attorney General Jeff Sessions, and David Apol, the acting director of the Office of Government Ethics, the CLC cites reports that Alexandra Preate, besides being Bannon's personal spokesperson, has also collaborated with White House officials in responding to the media, even though she is not being paid by the government. If this is true, the letter says, Bannon may be violating the Antideficiency Act, which prohibits government employees from accepting voluntary services. The letter says that such violations can be punished with removal from office, or even 2 years in prison, if done knowingly.
Not only that, the CLC claims, Bannon could also be violating executive branch gift rules if he's accepting Preate's services as a gift because of his position. It should be noted there is an exception to the rule for gifts given due to friendship or family relationship, and that Preate's firm, Capital HQ, represented Bannon prior to him joining the White House. However, the CLC insists that this exception does not apply here because it was Preate's firm, not Preate herself who worked with Bannon back then, and the firm was paid for their work.
The letter also notes that Preate's "top client and a major source of her firm's income" is Breitbart News, which Bannon used to run. It also discusses how in the past, Preate worked with Rebekah Mercer, whose family co-owns businesses with Bannon and ran a super PAC during Trump's campaign, through which Mercer's father allegedly "quietly subsidized Bannon's work as Trump campaign CEO." The CLC claims that if Breitbart or the Mercers are now paying for Preate to work for Bannon in the White House, they too could be providing gifts in violation of the rules.
Due to these concerns, the CLC is asking officials to "investigate, prosecute, or make recommendations regarding these potential violations of federal laws and regulations."
Larry Noble, senior director and general counsel of the CLC, said in a statement obtained by LawNewz.com, "Once again, it appears the White House is ignoring longstanding government ethics rules, this time by outsourcing White House press office functions to an unpaid private public relations consultant."
LawNewz.com  has reached out to the White House, DOJ, OGE, and Preate for comment.
Bannon Letter by LawNewz on Scribd
Have a tip we should know? [email protected]