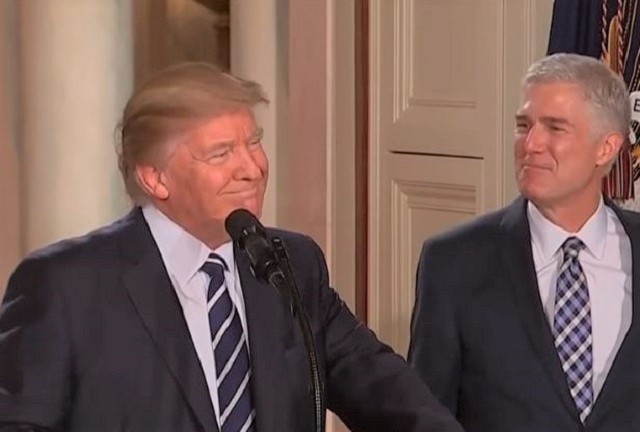 Supreme Court Justice Neil Gorsuch was known for his flair for language well before his appointment to the high court, but apparently his talents are not limited to judicial opinions. After President Donald Trump selected Gorsuch as his nominee to replace the late Justice Antonin Scalia, Gorsuch wrote a handwritten thank you note. According to excerpts published by The Washington Post, it's quite the letter.
"Your address to Congress was magnificent," Gorsuch said. "And you were so kind to recognize Mrs. Scalia, remember the justice, and mention me. My teenage daughters were cheering the TV!"
Gorsuch's effusive praise was not limited to Trump's words, but also extended to the people Trump picked to aid Gorsuch with his confirmation hearing, and by extension, the president himself.
"The team you have assembled to assist me in the Senate is remarkable and inspiring," Gorsuch gushed. "I see daily their love of country and our Constitution, and know it is a tribute to you and your leadership for policy is always about personnel."
President Trump had reportedly been unhappy that Gorsuch hadn't been appreciative enough of the nomination, and was worried after Gorsuch appeared to be critical of some of Trump's statements regarding federal courts. According to the Post, Trump even considered rescinding the nomination. After he read Gorsuch's little love letter, however, he felt better.
Have a tip we should know? [email protected]