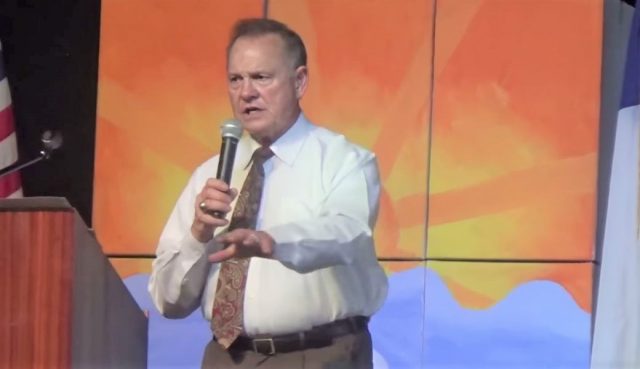 Till recently, Roy Moore was the obvious favorite to fill the Senate seat left vacant by Jeff Sessions, but if one report is to be believed, he might get ousted even if he wins the special election scheduled for December 12. His replacement: Jeff Sessions. Moore was likely to win by virtue of being the Republican candidate in a red state, but that changed after four women told The Washington Post that he pursued relationships with them when they were teenagers and he was a grown man. He has denied the allegations, which he called a political smear job, and refuses to stop campaigning. That hasn't stopped the party of Lincoln from scrambling for a replacement.
An article by The New York Times said Monday that Senate Republicans are in an awkward position, faced with the possible question as to whether they should expel Moore. One idea being discussed, according to two White House officials on condition of anonymity, is that Moore gets kicked out then, Alabama Governor Kay Ivey, a GOPer, appoint Sessions to fill the vacant seat.
Law & Crime reached out to Ivey's office for comment.
Professor Rick Hasen, an election law expert at the University of California, Irvine, said the reported plan is undemocratic after a Twitter user asked if this was "kosher."
NO. That sounds about as undemocratic as one can imagine. Even worse than cancelling election.

Senate can seat Moore and then on 2/3 vote expel him (but questions about whether it can be for pre-Senate conduct). https://t.co/p6m1vgdYeZ

— Rick Hasen (@rickhasen) November 13, 2017
Returning to the Senate might be nice for Sessions. His boss, President Donald Trump, publicly soured on him after he recused himself from the FBI's investigation into Russia's interference in the 2016 election. POTUS publicly lashed him, too, though their working relationship has grown more stable as of late, at least publicly.
Republicans only maintain a slight 52-48 majority in the Senate. If Moore wins the election, it will maintain that advantage, though it might also result in an awkward working environment for an already fractured party. Several Senators, including majority leader Mitch McConnell, called on Moore to step down from the race. This is how the candidate responded:
The person who should step aside is @SenateMajLdr Mitch McConnell. He has failed conservatives and must be replaced. #DrainTheSwamp

— Judge Roy Moore (@MooreSenate) November 13, 2017
This of course assumes that Moore wins. The result of the upcoming election remains unclear. A recent poll placed Democratic candidate Doug Jones in the lead. Moore's local backing remains strong, however, as supporters either downplayed or rejected the allegations.
Moore threatened a lawsuit against WaPo on Sunday. A fifth woman also made a public allegation against him on Monday.
Correction – Nov. 14, 12:44 p.m.: The original version of this article incorrectly stated that Moore threatened his lawsuit on Monday.
Have a tip we should know? [email protected]