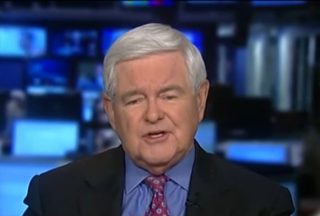 Former Speaker of the House Newt Gingrich spoke to NPR's Rachel Martin on Wednesday, discussing what people can expect under the upcoming Donald Trump administration. One moment stood out, where Gingrich described how Trump could have those around him commit illegal acts to carry out his will.
Martin asked Gingrich about a statement he had made earlier this week about potential conflicts of interest in the administration. Gingrich had told NPR's Diane Rehm that Trump could pardon anyone who may have broken the rules. In his interview with Martin, Gingrich took that idea a step further, going beyond conflicts of interest.
Listen to the segment here (the pertinent part begins at the 3:45 mark)

"The Constitution gives the President of the United States an extraordinarily wide grant of authority to use the power of the pardon. I'm not saying he should, I'm not saying he will, but it also allows the President, in a national security moment, to say to somebody, 'Go do X,' even it's technically against the law, and here's your pardon." Gingrich said that theoretically a President can order someone to break the law, saying, "I'm ordering you as Commander in Chief to go do this." Gingrich didn't advocate the use of the pardon power in this way, but said it is Constitutional. Of course, this ignores the fact that if Trump ordered someone to break the law and they did it, that itself could make Trump guilty of conspiracy, subjecting him to impeachment.
Despite this ability to pardon, or perhaps because of it, Gingrich says that Trump's administration has to "find some system that convinces most reasonable people that they're operating within bounds of integrity and bounds that prevent corruption and prevent misuse of power."
[Image via Fox News screengrab]
Have a tip we should know? [email protected]