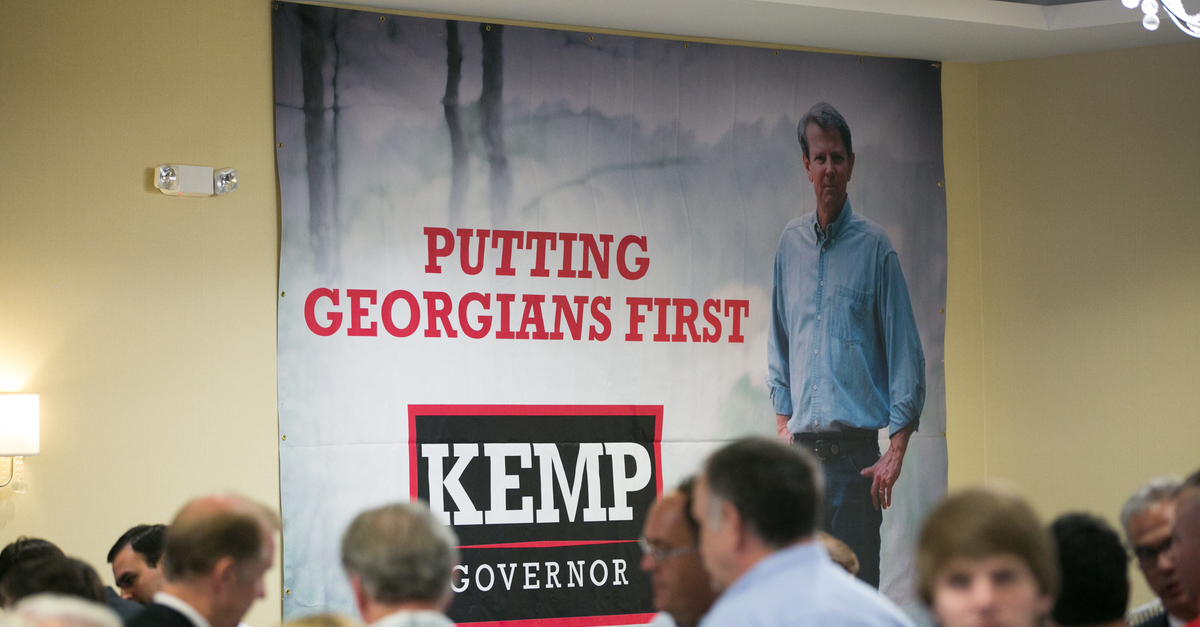 Georgia's Secretary of State Brian Kemp is concerned that too many people might be lawfully voting during this year's midterm elections.
Kemp, who is also the Republican Party's nominee for governor, framed his concerns in the context of Democratic gubernatorial candidate Stacey Abrams' vaunted turnout operation.
In audio obtained by Rolling Stone, the GOP nominee says that his opponent's get-out-the-vote campaign "continues to concern us, especially if everybody uses and exercises their right to vote."
Kemp's comments were made at the "Georgia Professionals for Kemp" event, which was held at the Blind Pig Parlour Bar in Atlanta on October 19. The Kemp campaign has confirmed that the event in question took place and was officially affiliated with the secretary of state's gubernatorial bid.
An attendee there–who gained admission by donating to Kemp's campaign for governor–recorded just over 21 minutes worth of audio during the gathering and provided the magazine with a receipt confirming their attendance, according to the report's author, Jamil Smith.
Kemp's apparent unease with all Georgia voters potentially participating in the state's political process is likely to draw criticism and engender a new round of controversy over his office's commitment–or lack thereof–to voting rights.
Widespread press attention has focused on Kemp's alleged efforts to disenfranchise hundreds of thousands of Peach State voters during his tenure as secretary of state.
According to an investigation cited by The Guardian, Kemp's office "improperly purged" some 340,000 voters from Georgia's voter rolls on the basis that they had changed residences without alerting the state's voting authorities. This investigation discovered, however, that most voters impacted by the purge hadn't actually moved at all. A separate investigation by American Public Media found that Kemp's office systematically removed over 100,000 people from the state's official list of eligible voters because those individuals apparently hadn't voted in a number of recent elections.
Kemp has also been criticized for his recent decision to suspend over 53,000 voter applications for allegedly violating the state's "exact match" verification procedure. Activists have pointed out that 70 percent of those suspended applications were filed by black residents. The Washington Post notes that Kemp was recently sued by civil rights groups over this latest incident of alleged voter suppression.
So, while it's not unheard of for politicians to complain about their opponent's turnout efforts, critics are likely to seize on Kemp's expressed concerns in the context of his office's widely reported success in trimming the state's total universe of voters.
And the Abrams campaign immediately did exactly that.
Abigail Collazo is the campaign's director of strategic communications. In comments to Rolling Stone, she said:
Brian Kemp is barely trying to hide the shameful fact that his strategy is to win through voter suppression. The idea that he, as Secretary of State, would be 'concerned' that hardworking Georgians are exercising their right to vote is disgraceful and outrageous. Brian Kemp should resign immediately so that Georgians can be sure the election will be administered in an impartial and competent manner.
Law&Crime reached out to Kemp's campaign for comment on this story but no response was forthcoming at the time of publication.
Some of Kemp's other remarks at the event in question are also likely to raise eyebrows. While the GOP candidate has been accused of voter suppression by the Abrams campaign for quite some time, Kemp attempted to flip those charges on Abrams herself by citing her campaign's voter contact efforts.
At one point during the ticketed event, Kemp complained, "If they email back and say, 'I'm a conservative female and I've gotten 15 mailers talking about how bad Brian Kemp is,' that's somebody we need to talk to…they are doing that for a reason. They are doing that to suppress your vote."
[image via Jessica McGowan/Getty Images]
Follow Colin Kalmbacher on Twitter: @colinkalmbacher
Have a tip we should know? [email protected]