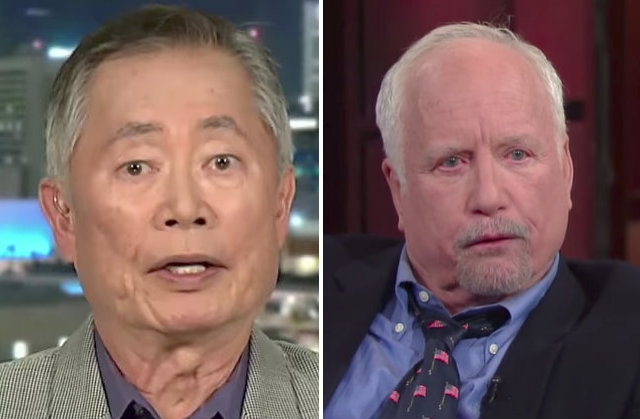 NEW YORK (AP) — George Takei took to Twitter on Saturday to deny groping a male model and Richard Dreyfuss said he never exposed himself to a female writer helping him with a TV script, both back in the 1980s.
Takei, the 80-year-old "Star Trek" icon, said in a series of tweets that events described by Scott R. Brunton in The Hollywood Reporter "simply did not occur," and he does not remember ever knowing Brunton.
"Right now it is a he said/he said situation, over alleged events nearly 40 years ago. But those that know me understand that non-consensual acts are so antithetical to my values and my practices, the very idea that someone would accuse me of this is quite personally painful," Takei tweeted.
Dreyfuss, meanwhile, told the New York magazine blog Vulture he flirted and even kissed Los Angeles writer Jessica Teich over several years but thought it was a "consensual seduction ritual." The fact that "I did not get it," he said, "makes me reassess every relationship I have ever thought was playful and mutual."
Teich told Vulture she first met Dreyfuss at a theater where she worked and they spent hours together over several years after she was hired to develop a script for an ABC comedy special. The actor, she said, made continual, overt and lewd comments and invitations but she never told anyone. Dreyfuss, now 70, called Teich a friend of more than 30 years.
In 1987, Teich said, she was summoned to his trailer on the set of one of his films and he exposed his genitals to her. Dreyfuss agent Barry McPherson on Saturday said his client denies ever exposing himself to Teich. As for other encounters with Teich, Dreyfuss said he is now "horrified and bewildered to discover that it wasn't consensual."
Teich said she decided to speak out after Dreyfuss tweeted support for his son, Harry, after the younger Dreyfuss went public with accusations that Kevin Spacey groped his crotch when he was 18.
Brunton told The Hollywood Reporter he was 23 when he first met Takei at a bar. Brunton was living in Hollywood and working as a waiter at the time. They exchanged numbers, speaking by telephone from time to time, when he rang up Takei after breaking up with a boyfriend. Takei invited him to dinner and the theater, Brunton said. He said the two went to Takei's condo for drinks after.
He said he grew dizzy and "must have passed out," awaking to his pants around his ankles and Takei groping him. He said he extricated himself and left.
The Hollywood Reporter said Friday it spoke to four longtime friends of Brunton who said he had confided in them about Takei years ago.
Also Saturday, an audio clip surfaced from Takei's appearance on Howard Stern's radio show last month. The interview was recorded less than two weeks after sexual assault accusations against fallen film mogul
Harvey Weinstein were made public. Stern and Takei were discussing the "irony" of the Weinstein case and the audiotape of President Donald Trump boasting about grabbing women's genitals years ago, when Stern asked Takei whether he had ever grabbed a man's genitals against his will.
Takei, a staunch opponent of the Republican president, initially was silent, then said "uh oh" and laughed. Stern asked again and Takei said, "Some people are kind of skittish, or maybe, um, uh, afraid, and you're trying to persuade."
Stern and his co-host, Robin Quivers, persisted, asking Takei whether he ever held a job over somebody for sex and he said no.
Quivers asked if he did "this grabbing at work." Takei said, "It was either in my home. They came to my home."
Meanwhile, "Supergirl" and "Arrow" executive producer Andrew Kreisberg has been suspended by Warners Bros. Television Group pending an investigation of sexual harassment and inappropriate touching accusations made by 19 former and current employees.
The accusations first were reported by Variety, which did not identify the 15 women and four men who accused Kreisberg.
Kreisberg told Variety, "I have made comments on women's appearances and clothes in my capacity as an executive producer, but they were not sexualized. Like many people, I have given someone a non-sexual hug or kiss on the cheek."
Warners Bros. confirmed the suspension Saturday and said in a statement, "We take all allegations of misconduct extremely seriously."
Kreisberg's shows run on the CW network.
In another development in the barrage of sexual assault, harassment and rape allegations to rock the entertainment industry and other fields, Massachusetts prosecutors will meet with the son of a former Boston TV news anchor who said Kevin Spacey sexually assaulted the teenage boy at a Nantucket restaurant.
Cape and Islands District Attorney Michael O'Keefe told The Boston Globe on Friday the meeting "will occur soon."
Heather Unruh told reporters Wednesday that Spacey stuck his hand down her then-18-year-old-son's pants and grabbed his genitals while the two of them were at a restaurant in July 2016. Unruh said Spacey ultimately left to use the bathroom and when he was out of sight, her son ran away.
Spacey's lawyer didn't immediately return an email seeking comment Saturday.
In New York, a subpoena in a Weinstein rape investigation requesting all medical treatment records from a therapist for "Boardwalk Empire" actress Paz de La Huerta is too broad and would be embarrassing and damaging to her, her lawyers said in court papers.
De la Huerta told police Oct. 25 the media mogul raped her twice in 2010. The Manhattan district attorney's office has subpoenaed her therapist, who told Vanity Fair she recalled de la Huerta telling her about the sexual assaults. But the subpoena seeks "any and all medical treatment records" from the therapist, both handwritten and typed.
De la Huerta's lawyers argued the information is protected by doctor-client confidentiality laws and she should have the opportunity to review the records before anything is turned over. They also argued the request sought too much information beyond just the 2010 allegations.
Have a tip we should know? [email protected]