Podcast: Play in new window | Download
Subscribe: RSS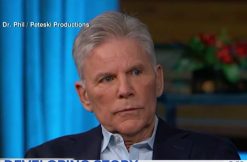 When 24-year-old Chandra Levy went missing in 2001, eyes turned toward Gary Condit. Observers questioned whether the Democratic congressman had an affair with the intern, after her aunt said Levy told her about it. But he won't even deny such claims after all these years.
"Why is it you will not answer publicly whether or not you had a sexual relationship with Chandra Levy?" Dr. Phil asked in an interview last week.
"Dr. Phil, I haven't answered that question for 15 years, and I'm not going to change my position or my view on that today, or anything in the future," Condit said, now 68.
Why did Condit apparently leave several phone messages for her after she went missing?
"It's 11:45," he said in one recording obtained by Good Morning America. "I'm sorry I've been tied up for the last few days, but you already know that."
Levy's remains were found in 2002, and Condit has been publicly, if not officially, suspected for having a role in her death. However, he has never been charged. His political career effectively ended from the case's fallout when he lost the Democratic primary for the 2002 mid-terms. Recently, he's put out the book, Actual Malice, telling his side of the story. He has always denied wrongdoing, and has said he saw her outside his office only a "handful" of times.
Authorities apprehended Ingmar Guandique in Levy's death. He admitted to assaulting two other women around the time she went missing, and in the same park where he remains were found. He was convicted, but the charges were got dropped in 2016 after a recording showed that a witnesses for the prosecution seemingly admitted to making up testimony.
–
Follow Alberto on Twitter (@Alberto Luperon)
Have a tip we should know? [email protected]