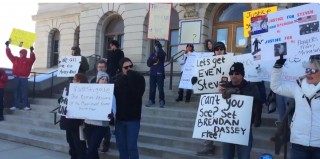 For all of the millions who obsessed about Netflix's Making a Murderer, and for the tens of thousands who signed a petition asking President Obama to pardon Steven Avery (which he can't do), the turnout at this morning's "pro-Steven Avery" rally was, in a word, lame.
According to the Green Bay Press Gazette, "more than 50 people" have gathered outside the Manitowoc County Courthouse, in an event that supposedly drew travelers from Ohio, Minnesota and Illinois. Police noted that everyone was peaceful.
Police Capt. Larry Zimney told WBAY that the cold weather may be keeping the crowd down. Given social media hype, police were expecting a much bigger turnout.
Protesters took to the streets following the release of the popular documentary in which the producers made the case that Steven Avery and Brendan Dassey may have been wrongfully convicted in the 2005 murder of freelance photographer Theresa Halbach.
Kim Ducat, Steven Avery's cousin, is out support him. @htrnews #MakingAMurderer #StevenAvery pic.twitter.com/Ps4wxc6fUL

— Yi-Chin Lee (@_yichinlee) January 29, 2016
The small crowd was not without conflict though. There was some debate between those who wanted them set free, and those who didn't buy into the theory:
Some anti-protesters taking a stand too. pic.twitter.com/Vi7syVoJwn

— Sarah Kloepping (@SarahKloepping) January 29, 2016
Perhaps the waning crowds are proof that the groundswell of support for Avery, and Dassey is finally dying down.
[h/t and screengrab from WBAY]
Have a tip we should know? [email protected]
Rachel Stockman - President / On Air Host