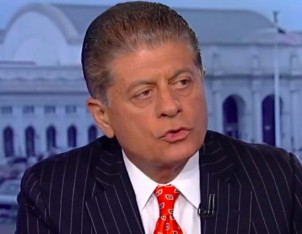 Fox News' Senior Judicial Analyst Judge Andrew Napolitano didn't hold back Thursday afternoon, even going so far as to accuse the FBI of "being controlled by political forces." On Special Report with Bret Baier, Napolitano bashed FBI Director James Comey's handling of Hillary Clinton's email investigation, and was not so pleased with his decision to release the FBI's investigatory files on a late Friday before the Labor Day Weekend.  He says he is even more convinced of corruption within the FBI after reading the files.
"I think the FBI was told to exonerate Mrs. Clinton at the outset of their investigation and I say that for a number of reasons: no grand jury was summoned, no evidence was presented to a grand jury, no subpoena was issued, and no search warrant was issued," he said.
WATCH: 
Please enable Javascript to watch this video

"If you read the documents that came out the weekend before Labor Day, there are five times in there in which the author said we couldn't find, we didn't have…. that's because their hands were tied by whatever political forces are controlling the FBI," he said.
On Wednesday, FBI Director James Comey sent out a memo addressing some of the concerns about his investigation.
"At the end of the day, the case itself was not a cliff-hanger; despite all the chest-beating by people no longer in government, there really wasn't a prosecutable case…but I have no patience for suggestions that we conducted ourselves as anything but what we are – honest, competent, and independent. Those suggesting that we are "political" or part of some 'fix' either don't know us, or they are full of baloney (and maybe some of both)," Comey wrote.
Have a tip we should know? [email protected]
Rachel Stockman - Editor in Chief / On Air Host