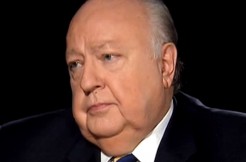 Fox News Network won a simple, but meaningful victory in court Wednesday: CEO Roger Ailes won't have to submit to a deposition in the lawsuit over a canceled reality show.
It's a bit of a convoluted story, but here's the details. Leftfield Pictures, the guys who produce Pawn Stars, were making a reality show for Fox Business. Leftfield sued Fox News Network (parent company of Fox Business) in July, demanding $4.5 million. They claim it was prematurely canceled in mid-production, according to a story by The Hollywood Reporter.
Fox sued back, saying Leftfield committed fraud: For example, a gay cast member allegedly didn't have a legal relationship with his "adopted" children, and another cast member faced molestation accusations.
This is where Ailes comes into the story. Leftfield later claimed Fox News Network executives were afraid to tell Ailes why they'd canceled a show they originally touted, so they allegedly fabricated a reason to axe it.
Leftfield wanted Ailes and his assistant to testify in the case. In a letter to the judge, they called the media mogul "the key decision-maker" in the purchase of the reality show. Their request was turned down Wednesday, however. New York State judge Barry Ostrager confirmed to The Wrap in a Wednesday report that Ailes wouldn't be deposed "at this time."
Fox touted the victory. "Mr. Ailes and his assistant did not negotiate the contract, did not hear the representations made by Leftfield about it and played no role in terminating the agreement," outside counsel representing Fox Business said in a statement obtained by LawNewz.com. "The trial judge rejected the Plaintiff's request to take these depositions and required Leftfield to depose the Fox employees who know something about the facts."
Obviously, the case is still ongoing.
[h/t The Hollywood Reporter]
–
Follow Alberto Luperon on Twitter (@Alberto Luperon)
Have a tip we should know? [email protected]