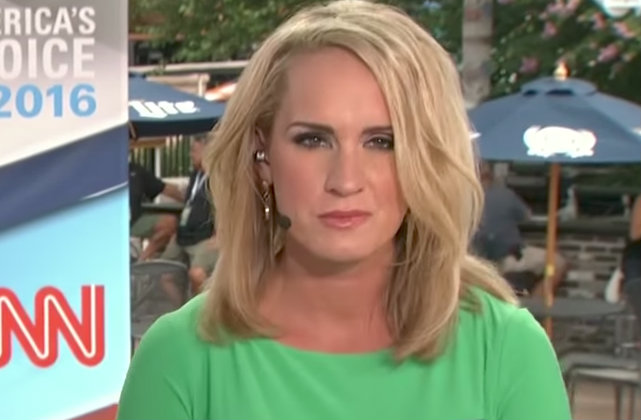 On Monday, political commentator and Fox News guest Scottie Nell Hughes sued the network and parent company Twenty-First Century Fox, claiming the network blacklisted her, then leaked her name to a media outlet after she made a rape allegation.
"My complaint speaks for itself," she said in a statement obtained by Law Newz. "What is most important to me is that justice will prevent other women from going through the nightmare I'm now living. On my behalf, Wigdor LLP will expose Fox's unconscionable conduct, including leaking my name to the media. I am grateful to my husband, family, friends and colleagues for the outpouring of love and support."
The complaint says that in June 2017, Hughes confidentially told lawyers from Paul Weiss, an outside law firm hired by Fox to investigate sexual harassment claims, that Fox Business anchor Charles Payne raped her in her hotel room in 2013. In retaliation, the network leaked her name to the National Enquirer, the complaint states. The lawsuit says that Payne sent the outlet a statement in which he tried to spin the sexual assault as an "affair."
According to the complaint, there are emails that Fox would likely use to show that Hughes and Payne had a consensual relationship after the alleged 2013 rape. Not true, the lawsuit says. Instead, Payne allegedly leveraged Hughes' career against her, and became "enraged and physically violent" when she tried to break things off.
"What constitutes a consensual affair between adults in a relationship outside of the workplace is not the same as a relationship between a male employee in a position of authority and a female subordinate in the workplace," states the complaint. "Payne used his position of power to pressure Ms. Hughes into submission."
Hughes says she finally stopped the sexual relationship with Payne, but his wife allegedly complained to then-Fox co-President Bill Shine. The complaint says Hughes started getting blacklisted by Fox News. This is what sparked her disclosure to Paul Weiss, the complaint says.
A Fox News spokesperson denied the allegation.
"The latest publicity stunt of a lawsuit filed by Doug Wigdor has absolutely no merit and is downright shameful. We will vigorously defend this," said a statement obtained by Law Newz. "It's worth noting that Doug is Ms. Hughes' third representative in the last six months to raise some variation of these claims which concern events from four years ago, since it apparently took some time to find someone willing to file this bogus case."
Payne's attorney Jonathan Halpern denied Hughes' claims about his client.
"My client Charles Payne vehemently denies any wrongdoing and will defend himself vigorously against this baseless complaint," Halpern said in a written statement to Law Newz.  "We are confident that when the evidence is presented in this case, Mr. Payne will be fully vindicated and these outrageous accusations against him will be confirmed as completely false."
Payne was suspended in July amid a sexual harassment probe. He denied the allegation, and returned to his regular job in September.
Fox News has faced a wide-range of sexual harassment claims. Allegations have taken down some of their biggest names. CEO Roger Ailes resigned after host Gretchen Carlson said he sexually harassed her. Host Bill O'Reilly has fielded numerous allegations, and settled a few, though he had denied the claims. Shine stepped down as co-president amid assertions that he helped bury numerous accusations.
Hughes' complaint can be read here:
Hughes Complaint by LawNewz on Scribd
Update – Sept. 18, 8:17 p.m.: We added the statement from a Fox News spokesperson.
Update – 11:09 p.m.: We added a statement from Payne's attorney.
Correction – 11:25 p.m.: The article's original headline said Hughes was a "contributor." Actually, she was a regular guest on Fox, and didn't have a contributor contract. Here's a clarifying excerpt from the lawsuit:
In the spring of 2013, she met Charles Payne, a Fox Business Network anchor, contributor and host of the show, Making Money, when she and Payne appeared as panelists together on Fox programs Cavuto and Hannity.

…

From the beginning, Payne expressed his romantic interest in Ms. Hughes and suggested that he could help advance her career, including by helping her receive a contributor contract at Fox.
[Screengrab via CNN]
Have a tip we should know? [email protected]