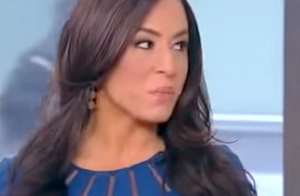 Fox News has filed a response to former anchor Andrea Tantaros who filed a lawsuit claiming she was sexually harassed by Roger Ailes at the network. Tantaros also named Fox News and several executives as defendants claiming that they allowed the network to be run, as she put it, like "a sex-fueled, playboy mansion-like cult."  Today, Fox News fired back saying, "Tantaros is not a victim; she is an opportunist," in a motion to compel Tantoros into arbitration. They also accuse Tantoros of shopping her "supposed harassment" story to media "without any success" and call her a "wannabe."
Here is more from Fox News' attorneys:
Tantaros's unverified complaint of August 22 in this Court bears all the hallmarks of the "wannabe": she claims now that she too was victimized by Roger Ailes, when, in fact, contrary to her pleading, she never complained of any such conduct in the course of an investigation months ago. Not to be outdone by anyone, she contends that she was sexually harassed by an ever-shifting collection of employees at Fox News; she charges that outside counsel retained by 21st Century Fox deliberately ignored her purportedly important harassment story (actually, her lawyer, Joseph C. Cane, Jr., failed to return a telephone call from the law firm, Paul Weiss, retained to conduct the investigation); and she claims retaliation even though she concedes that she has not been terminated and remains on Fox News' payroll.
Attorneys for Fox News argue that the complaint should not have been filed in court at all, because under the terms of her employment contract, she must resolve disagreements through a private arbitration agreement. They also contend that she was suspended months ago for breaching that agreement by publishing an unauthorized book. Attorney David Garland, who represents Fox News, and the other executives, are seeking that the judge force the case into arbitration.
LawNewz is going through the response and will update here with more information. 
Have a tip we should know? [email protected]
Rachel Stockman - President / On Air Host