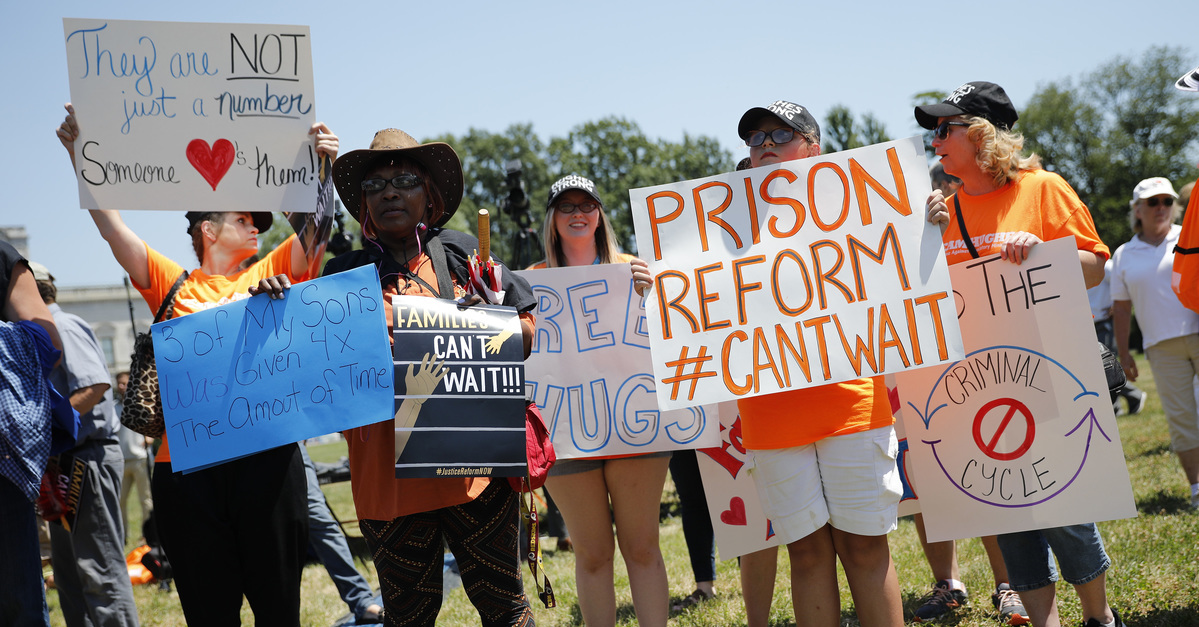 Formerly incarcerated Americans are pushing back against recent press coverage they say dehumanizes people in prison and gives a one-sided story solely from the perspective of prison guards and other correctional officers.
Law&Crime previously covered one aspect of this controversy in an article debunking a series of stories published by USA Today, the Washington Post and NBC News. In that report, American Federation of Government Employees President Eric Young confirmed that the "steak" allegedly served to federal prisoners as part of a holiday meal was actually roast beef. Each of the stories by the aforementioned outlets erroneously made mention of steaks.
Author, podcast host and formerly incarcerated criminal justice reform advocate Joshua B. Hoe organized an open letter assailing USA Today's reporting–and the various imitators who all ran similar and similarly erroneous stories about prison food.
The open letter signed by 80 leading criminal justice reform advocates notes:
People in prison have nothing to do with the federal shutdown. It's not like a Dickensian meal of gruel for inmates on Christmas would have opened the government. Ironically for an article on modern corrections, the article does nothing to achieve accountability for the responsible parties and instead demonizes people in prison for a management issue that never solicits their input.
The letter goes on to castigate the press coverage for the tone it took as well.
"The mean-spirited and at points racist, nature of both the article and the quotes illuminate what is wrong with the correctional system," the letter continues. "If it were truly correctional, people inside would be treated with human dignity and the contents of this meal — likely planned in October — would not be a contentious issue (in addition, the history of the holiday meal goes back at least to the 1980's)."
Hoe went on to further examine the slate of press coverage which seemingly attacked prisoners for Bureau of Prisons decisions made months prior to the partial government shutdown in a piece on Medium titled "All Sizzle, No Steak."
The major problem with those stories, according to Hoe, was two-fold: (1) the initial reporting about holiday meals in prisons was exploitative, incorrect and lacking in context; and (2) the stories were essentially a form of viral clickbait that appeared to one-up one another in a race to the bottom.
Another huge problem for formerly incarcerated people and criminal justice reform advocates was that no one either currently in prison or anyone formerly incarcerated was interviewed for any of those initial stories–and that, advocates argue, resulted in prisoners being presented as caricatures.
"It is not impossible to interview folks in prison, even when [Departments of Corrections] make it hard," Hoe explained in an email to Law&Crime. "Objectifying and turning real people into props, instead of affording them subjectivity is not okay."
When asked for additional comment on this story, Hoe took an optimistic outlook by praising recently-passed reforms:
Passage of the First Step Act was more than legislation. It was a crack in the foundations of a criminal justice system that hides our societal problems behind walls and tells people that everything will be okay if we just put 'those people' behind bars. Creating better societal outcomes has to start with recognizing the common humanity between people on the outside and people on the inside. What we are starting to do is demand journalists and society treat us with basic human dignity.
In a later email, Hoe was less optimistic: pointing out that the Washington Post had ignored the open letter and published another story that appeared to pit corrections officers against inmates amidst the backdrop of the government shutdown.
"Meanwhile, few things have changed for prisoners," the Post's latest story notes, "who continue to receive food and medical care out of a fund that has already been appropriated for the year by Congress."
Ethan Brown is the lead editor of criminal justice reform publication The Appeal. In a somewhat exasperated tone, Brown cast a highly critical eye toward that sentence on Twitter.
"The guard/state-centric media coverage of how the shutdown is affecting federal prisons takes a turn from bad to scandalous," Brown wrote. "How does a sentence like this get published?"
Open Letter Re Prison Meals by on Scribd
[image via Aaron P. Bernstein/Getty Images]
Have a tip we should know? [email protected]