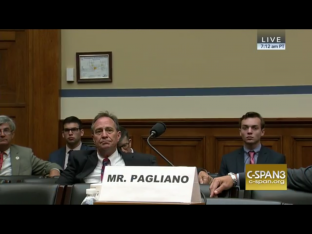 The man who reportedly set up Hillary Clinton's private server followed through on a promise not to appear to testify before the House Oversight and Government Reform Committee on Tuesday morning.
The Washington Post reported late Monday evening that lawyers for former Clinton IT aide Bryan Pagliano had notified the House Oversight Committee that their client would not appear to testify.  The lawyers said Pagliano had already appeared before a different Congressional committee and made it clear he would invoke his Fifth Amendment rights.
"Any effort to require Mr. Pagliano to publicly appear this week and again assert his Fifth Amendment rights before a committee of the same Congress, inquiring about the same matter as the Benghazi Committee, furthers no legislative purpose and is a transparent effort to publicly harass and humiliate our client for unvarnished political purposes," the letter states, according to the newspaper.
Pagliano's chair sat empty on Tuesday morning as the hearing got underway without him.  Committee Chairman Jason Chaffetz was clearly not happy with Pagliano's decision, saying a witness who "thumbs his nose" at Congress should not be rewarded.  He also said the Committee requested a copy of Pagliano's reported immunity agreement, but they had not received a copy as of Tuesday morning.  Chaffetz said he will wait until after the hearing today to decide how to deal with Pagliano's failure to appear.
There are no set penalties for ignoring a Congressional subpoena.  The Committee would first need to issue a contempt citation and then the matter would move to federal court.
In addition to Pagliano, the Committee also called issued subpoenas to others believed to be involved in the managing of Clinton's private server, including Paul Combetta and Bill Thornton of Platte River Networks.
Last week, The New York Times reported Combetta also received immunity from the DOJ in the case.  Combetta is believed to be the individual who deleted backup servers that contained Clinton's emails after Congress issued a preservation order.  Combetta declined to respond to lawmakers questions about his alleged immunity agreement.
Both Combetta and Thornton invoked their Fifth Amendment rights and refused to testify.
A fourth individual who was involved in managing Clinton's server, Justin Cooper, also appeared before the Committee.  He did not invoke his Fifth Amendment rights and is currently testifying.
Stick with LawNewz.com for more information about this ongoing story throughout the day.
This article was updated to provide additional information about potential punishments for ignoring a Congressional subpoena.  
[image via screengrab]
Have a tip we should know? [email protected]