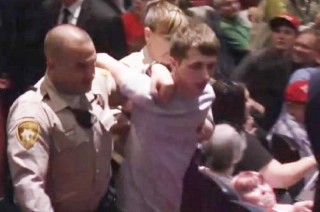 The mother of the British man who allegedly try to shoot Donald Trump at an event in Las Vegas in June says that her son, Michael Sandford, has signed a plea agreement.
"I was very relieved that he signed it. It was a bit of a battle because he is quite head strong," Lynne Sandford said in an interview with London's ITV News. "But we all laid the options out there for him on the table and, of course, it is a gamble."
Sandford is accused of trying to take a gun from a Las Vegas Metropolitan Police officer at a rally at the Treasure Island Casino. According to the complaint, Sandford admitted that he went to Las Vegas to kill Trump. He allegedly said he was planning to kill Trump for about a year, and that if he were to go free, he would try it again.
The family's attorney, Saimo Chahal, said that Sandford was experiencing a "psychotic episode" at the time of the alleged offense. "He was hearing a voice telling him to rid the world of Trump. So, it does seem he was in a very bad mental state at the time that he allegedly committed this offence."
Michael is expected to plead to being an illegal alien in possession of a firearm and disrupting government business at a court appearance in Nevada on Tuesday. A judge still has to accept the agreement, which would involve Sandford serving jail time. Still, his mother says, "Every stage is a stage closer to him being able to come home."
Have a tip we should know? [email protected]