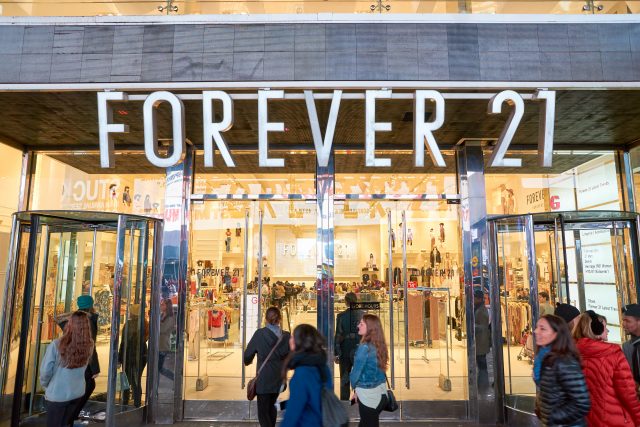 A woman who used to work at retail store Forever 21 is suing the company after video of her in the bathroom taken without her knowledge allegedly wound up on pornographic websites. The former employee, identified in court documents as Jane Doe, claims that when she was working at a Forever 21 location in Providence, Rhode Island in 2011, someone used a hidden camera in the employee bathroom to record video of her, which was then posted online.
The complaint states that Doe worked at the store from May to August of 2011, when she was a college student, but didn't find out about the video until more than five years later. The video allegedly showed Doe "while she was in the restroom, as she was urinating, and in various stages of undress, and exposing her private parts."
Doe's attorney, Rocco Avallone, told Law&Crime that Doe found out about the video when she received a text from someone claiming to know her from college, who saw the video on a porn site.
Avallone said that the video has been viewed online approximately 15,000 times.
"My client is emotionally and psychologically scared and will be the rest of her life knowing that her image is all over the internet on porno sites for perverts to see," he said. "The gross negligence of Forever 21 to allow someone in their control … to be able to install a video camera in the bathroom stall and video tape its employees in stages of undress is utterly unacceptable[.]"
Doe claims that Forever 21 is responsible for what happened regardless of whether the culprit was an employee or not. If it was an employee behind it, the lawsuit states, then Forever 21 was negligent in their hiring and supervision practices. If it was not an employee, then they were negligent in allowing the person to access the employee restroom, and for not having security measures in place that would show who went to the restricted area. The bathroom was located beyond an employee locker room, which itself was behind the cash register area, the complaint says.
The lawsuit also makes a claim against the store for invasion of privacy.
Doe says that she has and still suffers from "severe and permanent emotional distress, embarrassment, past and future medical expenses," and is seeking $2 million in damages.
Law&Crime reached out to Forever 21 for comment.
Doe v Forever21 Complaint by LawNewz on Scribd
This article has been updated with statements from Doe's attorney.
Have a tip we should know? [email protected]