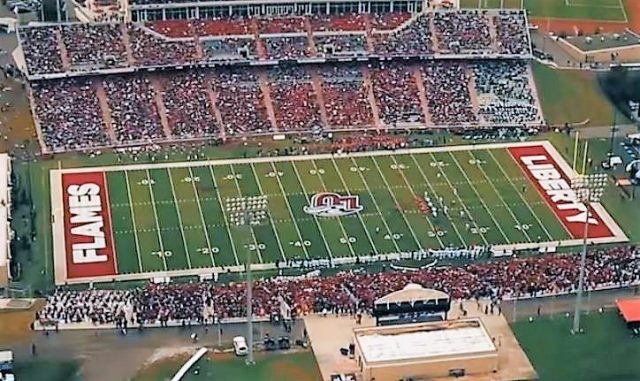 In July 2016, Cameron Jackson was a football player for Liberty University. He was also accused of sexually assaulting a female student the previous August. In October 2016, Jackson was expelled from the school for violating policies related to sexual assault, hours before law enforcement officials told Jackson that a police investigation was complete and he would not be facing charges. Now Jackson is suing the school, university officials, and his accuser for defamation.
Jackson claims in a $102 million lawsuit viewed by LawNewz.com that while he did have a sexual encounter with the female student, it was consensual. The lawsuit states that she herself was kicked out of school for violating the student conduct policy just weeks before she reported the incident. The school's Conduct Review Committee determined that Jackson was in violation of their policy on sexual assault, and Jackson appealed. The school then sent out a press release of their decision, the lawsuit says, and the story appeared on "[e]very local radio station … the local newspaper, and several local radio stations," before getting national attention due to coverage by the Associated Press. The complaint says that after the school issued its press release, and while Jackson's appeal was still pending, other students harassed him on campus.
Jackson claims that multiple people then went to the school in his defense, but the school's Assistant Director of Title IX, Valerie Dufort, allegedly told them that their testimony wouldn't be viewed as credible because they came forward well after the report.
The school eventually held a hearing on Jackson's appeal, despite Jackson's request for a delay when law enforcement officials informed him that their investigation would be completed a few days later. On appeal, the school upheld the decision against Jackson and expelled him from the university. Later that day, police announced that Jackson would not be facing charges. Nevertheless, the complaint states, Jackson remains expelled from the school with a notification on his transcript saying he was removed due to sexual assault.
In addition to defamation, Jackson claims that Liberty University discriminated against him for being male, in violation of Title IX, and was negligent in their handling of their investigation. The lawsuit states that as a result of the press coverage of the case, his expulsion from the school, and the mark on his transcript, his academic, athletic, and economic future will be harmed.
Liberty University General Counsel David Corry said in a statement to the The News & Advance, "Liberty University has consistently provided those accused of Title IX violations with proper process both before and during their appeals.  Mr. Jackson's case was no exception."
Jackson is seeking a total of more than $102 million from the various parties involved, including Liberty University, various school officials, and the female who accused him.
[Image via Liberty University screengrab]
Have a tip we should know? [email protected]