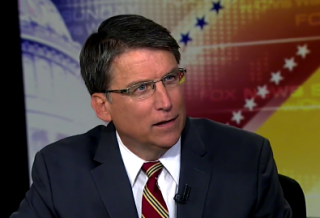 Political pundits often pointed towards the controversial North Carolina bathroom bill as a key reason why now-former Governor Pat McCrory narrowly lost his re-election bid in November.  Now, the ex-governor himself seems to be blaming the law for why he is finding it difficult to find work now that he is back in private life.
As you may recall, North Carolina received a great deal of criticism from many in the media and even professional sports organizations after McCrory signed the controversial House Bill 2 into law. The law repealed some local ordinances and required individuals to use the bathroom associated with their gender at birth.  The National Basketball Association (NBA) moved its annual All-Star-Game Weekend from the state, citing the law.
In November, McCrory lost a very close re-election bid against Democratic challenger Roy Cooper.  It is usually very easy for an ex-governor to find work in the private sector after spending even just one term as a state's chief executive.  But now that he is out of the governor's mansion, McCrory is reportedly claiming in interviews that his support of House Bill 2 seems to be to blame for his inability to find steady work.
The News-Observer newspaper reports McCrory was interviewed last week for a podcast on a local Christian-based broadcasting outlet and during the interview the former governor said his support off Hb2 "has impacted me to this day, even after I left office. People are reluctant to hire me, because, 'oh my gosh, he's a bigot' – which is the last thing I am." He added, "If you disagree with the politically correct thought police on this new definition of gender, you're a bigot, you're the worst of evil. It's almost as if I broke a law."
When the newspaper followed up with McCrory about the comments on Monday, and he said he has been able to find "several opportunities in business to do work that I'd done prior to becoming governor in consulting and advisory board positions."  However, McCrory said he is having much more difficulty when it comes to potential teaching opportunities or work with non-profit groups.  He believes many in academia "have shown reluctance because of student protests" to offer him positions, but he declined to provide any specifics, likely believing it will further diminish his ability to find work or even cause damage to the institutions.
"That's not the way our American system should operate – having people purged due to political thought," McCrory told the reporter.
[image via screengrab]
Have a tip we should know? [email protected]