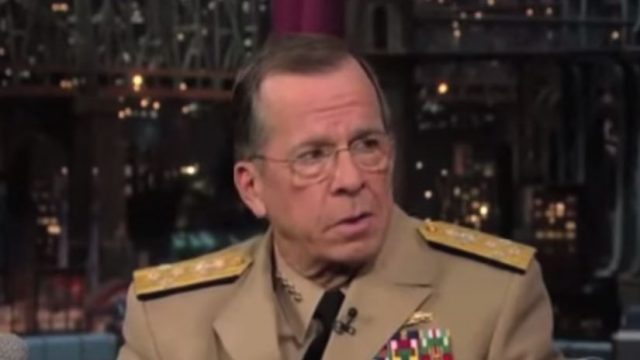 The principal military adviser for Presidents George W. Bush and Barack Obama has come out against President Donald Trump's ban of transgender people from the military. Admiral Michael Mullen, the former Chairman of the Joint Chiefs of Staff, filed a court declaration on Thursday in support of a lawsuit against the ban brought by current and aspiring service members represented by Lambda Legal, in which he stated that an "inclusive policy" is better for the military.
Adm. Mullen said that he agreed with the military's research of the issue that found that allowing transgender members of the armed forces to serve openly promoted military readiness. That evaluation led to a 2016 directive that ended a prior ban on the open service of transgender people.
"I strongly believe that we should not return to the days of 'forc[ing] young men and women to lie about who they are in order to defend their fellow citizens,'" Mullen wrote, citing language he used in 2010 regarding the Don't Ask Don't Tell policy that forbade gay, lesbian, and bisexual people from serving openly. Mullen had a hand in repealing Don't Ask Don't Tell under President Obama, and his new court filing noted similarities between that policy and the transgender ban:
Both DADT and the ban on open service by transgender individuals set apart a subset of brave women and men serving in uniform and treat them worse than other soldiers for no valid reason – and both policies potentially undermine military readiness.
Mullen said that treating people differently could lower morale. He also said that a ban "may also deprive our military of trained and skilled service members and leave vacancies that may not be easy to fill."
The lawsuit remains ongoing in Washington State federal court. The plaintiffs filed a motion seeking a preliminary injunction barring the government from enforcing a transgender ban while the case is ongoing. Mullen's declaration joins more than a dozen others in support of the injunction.
Mullen Declaration by LawNewz on Scribd
[Image via CBS screengrab]
Have a tip we should know? [email protected]