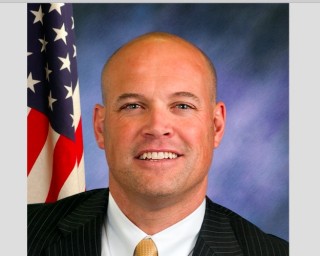 In July, former State Rep. Ron Sandack (R) suddenly resigned from the Illinois's General Assembly. Nobody really knew why at first. Well, late Friday afternoon, Sandack released a statement explaining the entire situation. And, of course, it involves "inappropriate online conversations." Sandack says he was targeted by an "international crime ring" looking to extort high profile individuals.
"I took their bait and fell for it hook, line and sinker," he said in a statement obtained by The Chicago Sun Times.   Sandack said numerous social media accounts were created "jeopardizing" his online identity. He said poor decisions caused him to be victimized, and that he is currently working with police.
According to a Downers Grove Police report, the woman contacted Sandack via Facebook, and over Skype. The woman lured Sandack in and than demanded that he send money via Western Union. He apparently did. After more fictitious Facebook pages were set up in his name, the woman demanded even more money. He sent  a "MoneyGram" to the Philippines.  The police report redacts how much money he was extorted for. But, it sounds looks like it was significant.
"I want it to be clear that no aspect of my involvement in this incident was related to my position as a State Representative nor was the computer state property. I'm human. I made a mistake for which I am remorseful and ashamed; especially because I have hurt my family, and there is no greater self-inflicted wound than that," Sanduck said.
[image via Illinois General Assembly]
Have a tip we should know? [email protected]
Rachel Stockman - President / On Air Host