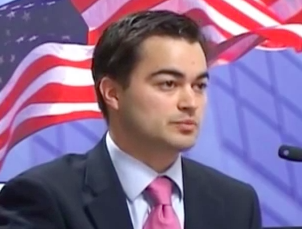 On Monday, the State Department said that it couldn't find any emails from senior information technology staffer Bryan Pagliano from when he worked for Secretary of State Hillary Clinton. 
"The Department has searched for Mr. Pagliano's email pst file and has not located one that cover the time period of Secretary Clinton's tenure," a State Department spokesman told ABC News, adding they did find emails from his time as a contractor. The latest revelation is a result of a FOIA lawsuit filed by the Republican National Committee.  Now if Pagliano's name sounds familiar, that's because earlier this year, the U.S. Department of Justice (likely through a federal judge) reportedly granted immunity to Pagliano. He helped set-up Clinton's privately maintained email server.
So understandably, there are a lot of questions right now about how it could be possible that the State Department could not find a single work-related email from his time with Clinton. So to figure this all out, LawNewz.com spoke with FOIA legal experts from around the country. Here's what's interesting, all contend that what happened is very, very unusual, and even "suspicious."
One of most interesting comments came from Dan Metcalfe who served as the founding director of the Justice Department's Office of Information and Privacy.  For decades, Metcalfe served as the federal government's information disclosure guru. Not only does he believe that this raises suspicions, he summed  up the situation with Pagliano's missing emails this way: "the whole thing stinks to high heavens."
The Federal Records Act requires federal employees (like Pagliano) who are leaving office to maintain certain records (which often includes emails). Every employee meets with a 'records manager' to ensure they are maintaining the proper records.
Here are the FOIA experts' reactions to this latest development:
Dan Metcalfe, Founding Director, Justice Department's Office of Information and Privacy (1981-2007):
"If it is true that federal records directly documenting his work no longer exist, then that is awfully coincidental, to put it most charitably — especially given the nature of his work and the role he has played in the Clinton e-mail controversy.

Indeed, it is more than ironic, given that what appear to be "missing" are e-mails.

And it certainly now raises reasonable suspicion, as it did with the Senate a few months ago, that something was very much amiss here — either with record creation or record preservation, or both.

For someone who has taken the Fifth regarding his government activity, it is more than suspicious that his agency suddenly determines that the records that you would ordinarily expect it to have maintained about his work are just not there.

Several competing conclusions are possible:  1) either these records weren't properly created and preserved to begin with, 2) they were improperly disposed of between then and when the state department did its records search, or 3) the records search, like so many at the state department lately, was a poor one, perhaps afflicted by other considerations.

In short, the whole thing stinks to high heavens.  It is difficult to imagine how anyone associated with Secretary Clinton in any way could envision getting away with something such as this."
Anne Weismann, FOIA attorney and Executive Director at the Campaign for Accountability:
"It is pretty suspicious that there is nothing from him from that period of time. It certainly seems at the a minimum he didn't comply with his record keeping responsibility. When he left government, he had an obligation to go through his emails, and other records – and identify records that needed to preserved. They have no emails for this person, for a long period of time, means that I don't buy the explanation that he didn't create any emails worthy of preservation…. He would have known how to wipe everything clean. I think it is very suspicious that his email is gone as we've learned through the IRS it might suddenly appear in other places."
Mark S. Zaid, Washington, DC legal expert on FOIA:
"It's inexplicable that these e-mails would no longer exist. This appears to be yet another example of poor record keeping policies at the Department of State. Certainly a legitimate question would be if there exists something more sinister to explain the absence, although I am not aware of any prior example of this magnitude.

There are regulations and laws in place that would dictate the maintenance of these records. I don't know offhand, however, what the time period would be but I'm confident we're still within it.

Beyond embarrassing for the State Department it's particularly unfortunate that this will be used to fuel further conspiracy theories involving former Secretary Clinton's e-mail fiasco."
Have a tip we should know? [email protected]
Rachel Stockman - President / On Air Host