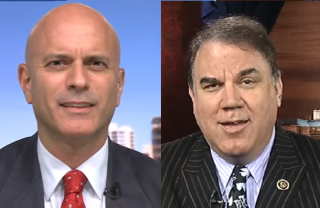 Two Florida Democrats who have been in the spotlight lately for very different reasons are the winners of the Bernie Sanders $200-and-under award, receiving the largest share of their congressional campaign funds from people giving modest amounts of any current candidates so far this cycle.
Individuals who gave $200 or less flocked to Sanders' campaign for the Democratic presidential nomination, carrying him much farther than most experts predicted. He drew in 59 percent of his purse from such donors, a staggering amount for a serious White House contender and far more than Hillary Clinton's 19 percent, though she bested Sanders for the party nod.
Among congressional candidates, few can approach Sanders. But the House and Senate leaders by this measure were both Sanders supporters. Tim Canova leads House contenders and Congress overall with 76 percent of his contributions from small donors — about 11 times the House average of 6.9 percent this cycle.
Canova is running for the seat held by former Democratic National Committee chair Rep. Debbie Wasserman Schultz.
Rep. Alan Grayson leads among Senate candidates with 55 percent of his campaign funds originating with small donors. The average for Senate campaigns: 11.8 percent. Grayson is up against fellow Democratic Rep. Patrick Murphy for the chance to fight failed GOP presidential candidate Sen. Marco Rubio for his seat.
In analyzing the numbers, OpenSecrets Blog excluded presidential candidates and those who raised less than $100,000. The analysis includes data through June 30, the most recent available.
The Bernie of the House
Canova's opponent in his state's Aug. 30 primary, Wasserman Schultz, has received just 29 percent of her campaign's funds from small donors. Larger donors — giving more than $200 — account for 36 percent. But last cycle, Wasserman Schultz had the second highest percentage of campaign funds from small donors: 47 percent.
Dan A. Smith, a professor at the University of Florida who specializes in elections, ascribes Canova's success to discontent with Wasserman Schultz's tenure as DNC chair. "There are many Democrats across the country who are infuriated with Debbie Wasserman Schultz," Smith said.
And many of them are Sanders fans. Wasserman Schultz resigned from the helm of the DNC just before the party's convention when leaked emails revealed both personal and organization-wide bias against Sanders. Now, Canova supporters hope voters swing toward him as another way to punish Wasserman Schultz for putting her thumb on the scales during the presidential primary process.
Canova, a 56-year-old law professor who was once appointed by Sanders to an advisory panel on overhauling the Federal Reserve system, has endorsed Sanders, and vice-versa. But Sanders lost to Clinton by 37 points in Wasserman Schulz's district, so it's unclear how much his endorsement will help Canova — except in fundraising. Sanders sent out an email calling for contributions for both himself and Canova on May 22. According to the Canova campaign, Sanders' single email raised over $225,000 for him.
Canova has criticized Wasserman Schultz for her support of the payday lending industry and the Trans-Pacific Partnership trade deal, issues that are near and dear to the hearts of many who don't normally ante up political contributions. "We are not taking a penny from any corporate interests, unlike my opponent Debbie Wasserman Schultz, who has been bathing in corporate money for years," Canova wrote to OpenSecrets Blog. "We are truly a grassroots campaign."

In the current campaign cycle, Wasserman Schultz has taken significant funds from corporate political action committees — $451,652 from business PACs, plus another $160,000 from organized labor PACs and $144,209 from ideological PACs. Canova has received just $14,000 from PACs, mainly from organized labor.
Overall, the former DNC chair has raked in over $3 million so far in her campaign; Canova has brought in a little under $2.3 million.
Two outside groups — the PAC of the American College of Radiology and the super PAC Patriot Majority — have spent $135,465 in the race — not much as outside spending goes.
Oddly, 89 percent of Canova's large donor money comes from out of state, compared with 28 percent for Wasserman Schultz — the reverse of the usual pattern with incumbents and challengers. That's due to the publicity Canova has drawn by trying to unseat the high-profile incumbent, noted Smith. Canova "has a national profile by extension of his proxy war against the DNC and Debbie Wasserman Schulz," Smith said.
Feeling the Bern, Senate-style
On the other side of the Capitol, Rep. Alan Grayson has raked in 55 percent of his campaign's funds so far from small donors, a greater share than any other Senate candidate. That's nearly five times the average for Senate campaigns this cycle. Nothing new, really, for the 58-year-old, Harvard Law-educated Grayson, who is serving his third term in the House. He topped the list in percentage of contributions from $200-and-under donors in his 2014 race, as well.
Grayson's primary opponent, Murphy, is a former Republican who crossed the aisle in 2011 and now has big establishment credentials, having been endorsed by both President Obama and Vice President Biden. But just 8 percent of Murphy's campaign funds have come from small donors, less than average for Senate hopefuls, while 72 percent has come from individuals giving more than $200.
Early on in the race, Grayson was beating Murphy by a wide margin. But Murphy overtook him in March, soon after the House's Ethics Committee announced it was reviewing Grayson's management of a Cayman Islands hedge fund while in office. Though the ethics panel hasn't yet opened a formal investigation, a report by the separate Office of Congressional Ethics found "as many as a half dozen violations of House rules." Grayson contends the report was aimed at aiding Murphy's campaign.
Grayson is also in a major spat with Senate Minority Leader Harry Reid (D-Nev.), who said to Grayson in May, "I want you to lose."  A recent Politico story detailing past domestic abuse allegations against Grayson caused him to lose the endorsements of progressive groups. Then there's the prolonged annulment fight with the mother of his five children.
All of this has led Grayson to be characterized as the "Left Wing's Trump" in a piece in The Atlantic. New York Magazine called his Senate bid the "Second-Strangest Campaign of the Season."
But Grayson has his share of accolades as well. He has been called the "most effective member of the House" by Slate Magazine. He has also written more bills and passed more amendments than any other member of the House.
Why is Grayson so successful with small donors?
Grayson cited his personal engagement with donors – "a two-way conversation," he called it in an interview with OpenSecrets Blog. "[I]t's sort of an overused term, but I think it applies here: We've put together a movement. People enjoy participating, and feel it's important to them personally."
But Grayson, a frequent guest on cable news shows, said the main reason he and Sanders have gained the support of so many small donors is their exposure. "It's the fact that people know me, people know Sen. Sanders," he maintained, citing his numerous TV gigs and Sanders' many radio appearances. "A lot of people feel Sen. Sanders and I are part of their lives, and that's meaningful to people."
Smith said Grayson's attacks on Republican opponents to Obamacare struck a chord, citing Grayson's widely-reported jab: "If you do get sick, America, the Republican healthcare plan is this: 'Die quickly.'"
Since then, Smith said, Grayson "has had a national profile, and has had both large and small donors from well outside his Orlando district contributing to his efforts."
Written by Alec Goodwin from Open Secrets, with contribution from Open Secrets Researcher Doug Weber, and submitted to LawNewz.com. Open Secrets is a non-partisan nonprofit organization which tracks money in U.S. politics.
Have a tip we should know? [email protected]