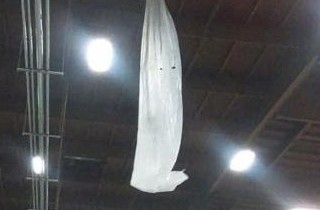 A black factory worker's racial discrimination lawsuit against his former employer will continue to move forward after the defendants tried to get it dismissed.
Isiah Washington used to work for the Sierra Aluminum Company in Riverside, California until someone allegedly put a "KKK hood" at his work station, according to a statement released Thursday by his lawyers at The Bloom Firm. But when he complained about it, he was allegedly "ridiculed, threatened, harassed and assaulted." Then, Washington says, he was fired.
And now his lawsuit has gained more traction, as California federal Judge Dolly M. Gee denied a motion to strike parts of Washington's complaint on July 29. From The Bloom Firm's statement, obtained by LawNewz.com:
In denying the defendants' motion to dismiss Mr. Washington's claims under California's civil rights laws, the court agreed with The Bloom Firm that in "arguing that KKK symbols do not connote violence or threat of violence, defendants completely ignore or are oblivious to the violent historical context of these shameful symbols of hate."
It wasn't a complete victory, though. The Bloom Firm will have to file an amended complaint when it comes to "the claim for breach of the implied covenant of good faith and fair dealing." In other words, they're claiming the Sierra Aluminum Company was acting shady when it came to Washington, but the judge wants them to adjust their argument.
Washington, who filed the complaint in February, said the workplace incident happened April 27, 2015. A plastic sheet had been hung over his station. Someone had allegedly punctured holes in it to made it look like a KKK hood.
"The plastic sheet was white in color and it clearly had eyehole cuts to make it appear as a Ku Klux Klan hood, known worldwide as a symbol of racial hatred and terror against African Americans," stated the lawsuit, filed in February and obtained by The Weekly Challenger.
But his supervisor, a "White Hispanic," called Washington a "puto" when he complained about it. ("Puto" is a derogatory Spanish term for a gay man.) Washington said whoever put up the sheet was trying to intimidate him. Workplace harassment continued until he was fired for "not following company policy" when told to see a company doctor after a workplace accident. He said this was just their excuse to get rid of him.
We've reached out to the Sierra Aluminum Company, and will update if we get a response.
–
Follow Alberto Luperon on Twitter (@Alberto Luperon)
Have a tip we should know? [email protected]