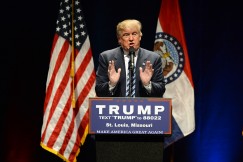 When Florida Attorney General Pam Bondi asked Donald Trump for a campaign donation back in 2013, she definitely didn't think that this story would happen. Here's what went down: In 2013, Bondi announced that Florida would join a fraud lawsuit in New York against Trump University. Four days after announcing her involvement, Bondi received a contribution of $25,000 to her campaign fund from Trump's foundation, according to the Associated Press. Later, Bondi withdrew from the lawsuit saying that there were insufficient grounds to proceed with the case.  Bondi also claimed that she had no knowledge of the complaints against Trump University despite the more than 20 complaints filed with the Florida's Attorney General's office.
Apparently, the donation to Bondi is not the first time that Trump has attempted to sway an Attorney General over to his side.  Trump also paid the former Attorney General of Texas, Greg Abbott, $35,000 to his campaign fund.  John Owens, former Texas Deputy Chief of Consumer Protection, told CBS News that he was also told to back off the Trump University case despite having strong evidence.
In an effort to defend himself against the Trump University fraud allegations, Trump told Jake Tapper of CNN on Monday that many attorney generals chose not to take the case singling out in particular the Attorney Generals from Texas and Florida.  In fact, while campaigning in Iowa, Trump said "When I want something I get it. When I call, they kiss my ass. It's true," the Associated Press reports.  Interestingly, both Bondi and Abbott have now endorsed Trump for President.
Have a tip we should know? [email protected]