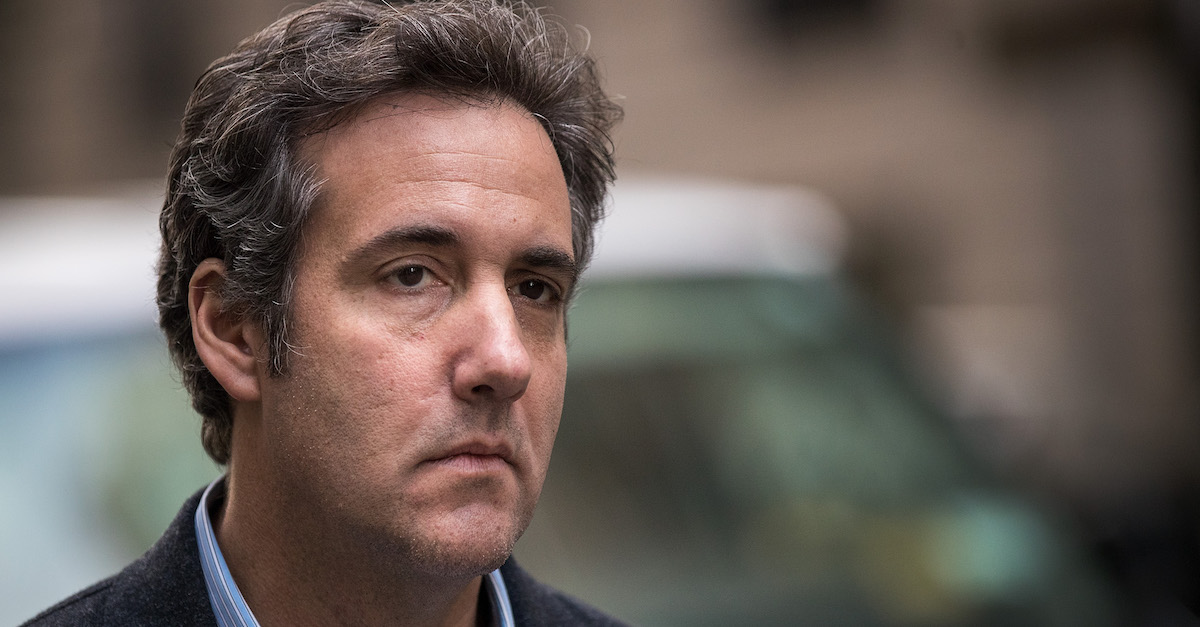 Michael Cohen, the former lawyer for President Donald Trump, may face a federal indictment in the coming weeks, according to a Sunday New York Times report, which could end up having significant ramifications for the president. As it turns out, however, the possible charges against Cohen could be based on a case where no one seems to have suffered any harm.
Most headlines surrounding Cohen and the criminal investigation of which he's been the center have focused on payments made to women who claimed to have had affairs with Trump in the past. There's the $130,000 that Cohen claimed he paid to adult film star Stormy Daniels in exchange for her silence, and the $150,000 that former Playboy model Karen MacDougal received for her story from the publisher of the National Enquirer, which Cohen was accused of being involved with. Both of those payments have come under scrutiny for potentially being considered campaign contributions because they may have been meant to help Trump's campaign in the weeks before the 2016 election. Now it's unclear whether Cohen will face any charges at all for this.
Instead, Cohen's New York City taxi businesses appear to be what federal authorities are looking at for possible charges. According to the Times, they're looking at $20 million in loans that Cohen acquired from Sterling National Bank and Melrose Credit Union. The report indicates that these loans have been acquired under false pretenses. Cohen reportedly used 32 taxi medallions as collateral for the loans, but he may have falsely stated their value, which was listed as more than $1 million per medallion. This could result in bank fraud charges, even though there is no indication that Cohen has missed any payments on the loans, which were granted in December 2014.
Neither bank has suffered any loss in the matter, according to the Times; the report noted that usually harm of some sort is important in bank fraud cases. Indeed, it's much easier to show a jury that a financial crime has been committed when someone has actually lost money. It's tougher to prove that Cohen committed fraud if he's been making all of his payments like he's supposed to.
Still, Cohen may not want to take this risk of facing criminal charges–even if he has a chance of winning–in which case he could end up cutting a deal with prosecutors. In recent months, Cohen has appeared more willing to come forward regarding his dealings with President Trump. Any dirt he might have could be a strong enough bargaining chip to keep him from facing serious criminal charges.
Cohen has been at Trump's side for years as his personal lawyer and fixer. If there is evidence that Trump was aware of or involved in any wrongdoing by his campaign with regards to colluding with Russia, there's a good chance Cohen would know about it. Special Counsel Robert Mueller so far has failed to get former campaign manager Paul Manafort to flip on Trump. Manafort opted to go to trial and is currently awaiting a jury's decision in a bank and tax fraud case of his own, with a related money laundering trial set to begin in September.
It's possible that Cohen could also face additional tax fraud charges related to his taxi income for possibly failing to accurately report cash-based income. If charges don't come soon, however, prosecutors will likely wait until after November's mid-term elections. An unwritten Justice Department policy discourages indictments or major announcements in politically-related during the 60 days prior to an election.
[Image via Drew Angerer/Getty Images]
Have a tip we should know? [email protected]