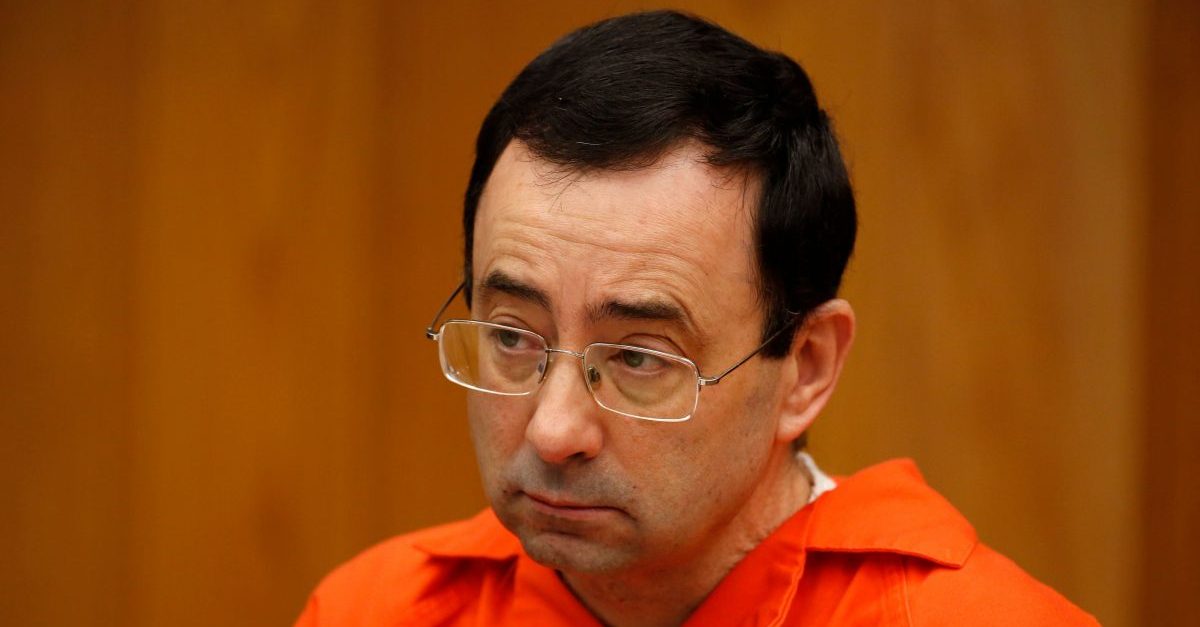 Disgraced former USA Gymnastics and Michigan State University doctor Larry Nassar has been transferred out of a federal prison in Tucson, Arizona after he claimed he was assaulted.  Nassar was placed in the Tucson facility for his 60-year sentence for a federal child pornography conviction, but federal records now show that he is being held in Oklahoma City.
Nassar alleged in a court filing that he was attacked soon after he was placed into the general population in Tucson. Retired Bureau of Prisons employee Ralph Miller told the Detroit News, who first reported the transfer, that Nassar may be sent to a facility in Indiana or Florida, and that the transfer could very well be due to the alleged assault.
"After a thorough review of the investigation and his case, the Bureau of Prisons will designate a facility that they believe he will be able to enter the general population," Miller told the newspaper. "Part of the mission of the Bureau of Prisons is to house inmates in facilities that are safe." Miller noted that the Florida and Indiana prisons "house inmates that have not been able to be safely housed in the mainstream high security facilities."
Nassar's attorney mentioned the alleged attack while attempting to appeal his client's sentence for a sexual assault conviction in Ingham County, Michigan. Judge Rosemarie Aquilina sentenced Nassar to up to 175 years behind bars, saying, "I just signed your death warrant." Aquilina faced a hearing over whether she acted improperly during the sentencing hearing, which featured victim impact statements from more than 100 women and girls who claimed Nassar sexually abused them during what was supposed to be medical treatments. Nassar wanted Aquilina to be taken off the case, but that request was denied. He was also sentenced to up to 125 years for abusing others in an Eaton County, Michigan case.
Olympic champion Simone Biles, who has publicly stated she was one of Nassar's victims, paid tribute to the survivors on Sunday. During a national competition, Biles wore a leotard featuring teal, a color associated with survivors of sexual abuse. Biles won her fifth national title in convincing fashion, receiving the highest scores in every event.
[Image via EFF KOWALSKY/AFP/Getty Images]
Have a tip we should know? [email protected]