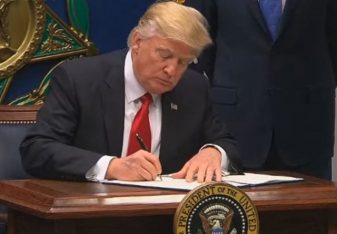 A federal judge in Hawaii scheduled a hearing for next week to hear oral arguments on the state of Hawaii's attempt to block the revised Trump travel ban.
According to court documents viewed by LawNewz, U.S. District Court Judge Derrick Watson (an Obama appointee) set oral arguments next Wednesday at 9:30 AM local time in Honolulu.  The state of Hawaii has requested a temporarily restraining order to prevent implementation of significant parts of the revised travel ban.
Trump's new order, signed on Monday, changed the original order by removing Iraq from the list of nations where visa applicants would face extreme vetting before entering the country and no longer applies to existing visa holders.
However, Hawaii filed an amended complaint late Tuesday night that alleges significant portions of the new order violated the U.S. Constitution.  Specifically, the amended complaint alleges the new order still essentially serves as as a Muslim ban and violates First Amendment religious protections. Furthermore, the amended complaint alleges the new order violates Fifth Amendment Due Process rights.  Finally, the state argues the new order violates sections of the Immigration and Nationality Act and Religious Freedom Restoration Act.
Hawaii's lawsuit is one of several newly filed challenges to the new Trump order.
[image via shutterstock]
Have a tip we should know? [email protected]